This supercut shows 'Mad Max: Fury Road' without the CGI —and it's unbelievably intense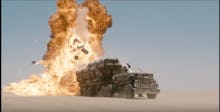 Though it's been months since Mad Max: Fury Road clinched six Oscars this year and ended its glorious media tour, there's never a bad time to talk about George Miller's batshit creation. In fact, a new supercut from the movie's new deluxe DVD release reminds us why the action film is so celebrated. 
The clip shows raw footage, pre-production tests and behind-the-scenes takes from the filming across the Namibian desert. Basically, the practical effects are so good it would surpass most other action films on its own, with the evidence coming in explosive, fiery droves. In a word, it's intense. 
Obviously, these scenes look very dangerous, but Fury Road had some of the best stuntmen at their disposal. Per Wired, the stunt team consulted with the Cirque du Soleil to find the best gymnasts — likely for the sequences that required people casually hanging onto a pole attached to a speeding car. 
Plus, whenever a huge explosion was going to happen, you have to imagine the crew kept a safe distance (and we checked — nobody was fatally injured on set). 
Fury Road was a technical masterpiece, and the entire crew should be awaited in Valhalla, shiny and chrome. Watch the Fury Road supercut below.