Alleged sexual harraser Dov Charney worries his "contrarian vision" is scaring investors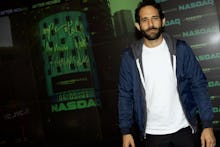 Walking corporate misconduct bingo card Dov Charney has a new project: a T-shirt company that he claims could hit $30 million in revenue in its first year, according to an interview published Monday by Business Insider.
Charney said he's already got about 40 employees, and though he won't say yet what the brand is named, he did launch a new website featuring his street photography shot in Los Angeles, which could be a clue to the type of look and feel of his new label. 
The announcement marks a return to fashion for the former CEO after an eight-month hiatus from the spotlight. 
Charney last dominated the headlines in January when he lost a legal bid to return to American Apparel, the fashion powerhouse he started — that, at its height in 2006, was acquired for nearly $400 million. 
Soon after, American Apparel's troubles began to mount. 
American Apparel stopped being profitable as early as 2009, prompting the New York Stock Exchange to take steps toward delisting it over concerns about the company's financial management.
In 2014, the company's board fired Charney, accusing him of mismanaging funds and of allowing a staffer to post naked photos of a former female employee online.
Charney has repeatedly denied all charges of wrongdoing, telling Business Insider, "I don't believe my behavior was bad. ... There's a myth and there's a reality."
But Charney has a longstanding reputation for his lewd behavior, which he has on some occasions even touted as an asset. 
In one 2004 interview with now-defunct Jane magazine, he said, "I am a bit of a dirty guy, but people like that right now," the Guardian reported in 2014. According to the writer behind the now-infamous profile, Claudine Ko, Charney received oral sex and masturbated in front of her, although she also wrote in a subsequent follow-up that the encounter was something of a mutual exploitation.
Still, it's hardly the only anecdote about Charney, who would also allegedly buy employees vibrators as gifts and attend meetings wearing only a thong. 
A screenshare he used for a company teleconference with store managers accidentally revealed bookmarked tabs for pornography sites and one labeled "good hookers." 
And according to court papers, sexual harassment litigation related to the former CEO's exploits cost American Apparel upwards of $9 million.
Charney seems to have paid a hefty price for his reputation. In 2014, he told Bloomberg he was down to his last $100,000 and reduced to crashing on friends' couches. 
He's also had trouble raising money from institutional investors to fund his new venture, though Charney claims that's simply because of his "vision."
"The unpredictable nature of my business and the manner in which I carry out my affairs and my whole contrarian vision, it's not conducive to the institutional model," he told Business Insider, explaining that he may take to crowdsourcing to raise extra funds.
What he did not mention?
Before he was ousted from American Apparel in December 2014, Charney had been the target of at least five sexual harassment lawsuits as of June of that year, most of which were eventually dropped or settled. 
In 2008, American Apparel agreed to pay one accuser $1.3 million on the condition that she enter arbitration with a judge of the company's choosing — and keep the settlement secret.