A Samsung Galaxy Note 7 exploded in a 6-year-old's hands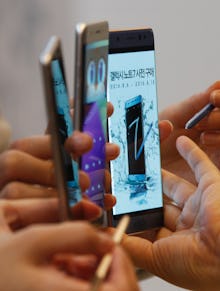 If your Samsung Galaxy Note 7 didn't come in a box marked with blue "s," indicating that the battery is explosion-proof, return it ASAP. 
The Galaxy Note 7 has gained infamy for bursting into flames shortly after its release. On Saturday night, a Galaxy Note 7 exploded in a 6-year-old boy's hands in Brooklyn, New York. 
"The child was watching videos on the phone when the battery exploded," Linda Lewis, the boy's grandmother, told the New York Post. "It set off alarms in my house."
The boy was sent to Downstate Medical Center with burns — he is now home, according to Lewis. 
"He doesn't want to see or go near any phones," she told the Post. "He's been crying to his mother." 
On September 2, Samsung confirmed in a statement that there was a battery issue with the Galaxy Note 7 — when the company made that statement there had been 35 reported cases. Following the statement, there have also been additional reports regarding faulty batteries — two separate incidents involved both a hotel and Jeep fire. 
Samsung immediately stopped selling the device and said it would replace the phones already purchased as part of a "global replacement program." If you are an owner of one of the 2.5 million devices already sold, you should power it off and return it to the retail location where you bought it, CNN Money reported.