Obama's latest proposal would block states from defunding abortion providers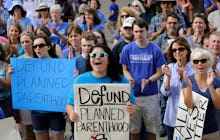 In a step toward reproductive justice, President Barack Obama proposed new legislation last week that would block states from defunding family planning services under Title X, part of the Public Health Service Act. 
According to the Cut, the Title X program provides funds for contraceptives, cancer screenings and STI tests — but it doesn't cover abortions. This caveat makes facilities like Planned Parenthood vulnerable to defunding, as they include both Title X services and abortion services.
"In at least several instances, this has led to disruption of services or reduction of services," the legislation reads.
In February, former GOP presidential candidate and current Ohio Gov. John Kasich signed a bill diverting $1.3 million in state dollars away from Planned Parenthood to health clinics that don't provide abortions or contract other centers that do.
Planned Parenthood president Cecile Richards called it like she saw it. "John Kasich is proudly eliminating care for expectant mothers and newborns; he is leaving thousands without vital STD and HIV testing, slashing a program to fight domestic violence and cutting access to essential, basic health care," she said at the time.
Still, other states continued to follow suit. According to the proposed legislation, Florida passed a law (that would have gone into effect in July had it not been deemed "unconstitutional") barring "certain family planning providers" from receiving Title X funds.
Earlier this year, a study examining the impact of defunding Planned Parenthood in Texas found it resulted in a 35% decline in women using IUDs and hormonal injections and a 27% spike in births among women who had once used injectable birth control.
Richards told Mic at the time, "Sadly, this is the result when anti-abortion lawmakers are guided by politics, and not the well-being of people in their state."