Radiohead just chose an extraordinary winner for their "Daydreaming" short film contest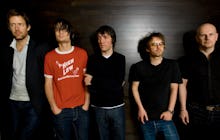 Earlier this year, Radiohead asked fans to match the creativity of their latest album A Moon Shaped Pool by creating some visual vignettes for their track "Daydreaming." It inspired an array of beautiful short films, but there could only be one winner. 
Monday, the band thanked all the fans who participated via Instagram and shared the winning video by the artist Affinitia, whose real name is Tim Urlacher. The video is a colorful, kaleidoscopic visual experience that endlessly drifts through a distorted, blocky cityscape.
Radiohead's Thom Yorke congratulated Affinitia on his personal Twitter, calling the vignette "extraordinary." 
"I've been a Radiohead fan my entire life," Ulracher said in a phone interview. "Radiohead has inspired me, they changed my life. When I was 16 years old, I made a music video called "From Within" to Radiohead's "Street Spirit" for an [unaffiliated] Radiohead video contest on Newgrounds.com and I won. It has totally come full circle."
Affinitia created his masterpiece using the program Mandelbulb 3D, with the entire process taking just about a week.
"Radiohead is my favorite band in the whole world," Urlacher continued. "I'm deeply honored they picked mine out of all the beautiful videos."
Countless other fans uploaded incredible aesthetics for the track on Twitter and Instagram, using the hashtag #rhvignette. Check out the runner-up by Sam Munnings Animation, and select entries from the shortlist below.