Alexis Arquette has died at 47: Here's what you need to know about the transgender pioneer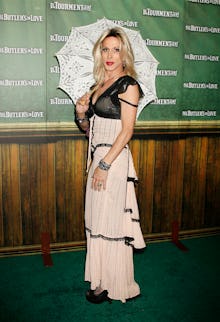 Alexis Arquette, an actress and activist, died at age 47 on Sunday, surrounded by her family. 
Arquette was ahead of her time — literally. Before talk about the "transgender tipping point" and before North Carolina's controversial HB2 law put transgender issues front and center in the national consciousness, Arquette brought visibility to transgender people for anyone who saw her in movies, TV and other forms of media. 
The actress appeared in over 40 movies, and often in transgender or gender-defiant roles. Her first big screen appearance was in 1986's Down and Out in Beverly Hills in an uncredited role as an androgynous teenager. Later, at 19, Alexis played Georgette, a cross-dresser, in Last Exit to Brooklyn. In the scene below, Georgette's family finds out about her lifestyle and throws her out of the house. 
(Trigger warning: transphobia, violence against trans people and suicide.) 
Arquette is probably most well-known for her portrayal of George Stitzer, a Boy George impersonator who only knows how to sing "Do You Really Want to Hurt Me?" in The Wedding Singer.
She began acting at only 12 years old in The Tubes' music video "She's a Beauty." In an interview with Index, she described her experience on set: 
"That was the first time that I'd ever seen somebody doing like, cocaine," she said. "There was this woman who was dressed like a mermaid, doing blow with the makeup artist. And I had no idea. And then one of the dancers had this huge package, and was like hitting on me — meanwhile, I'm 12 years old. He kept giving me this look, like he wants to do me, and I was scared shitless. Of course, now I think back, I should have gone for it. I was a very sexual child. So to be around that world, that rock n' roll world, really stimulated me in a big way." 
One of Arquette's best roles was actually as herself. In 2007, a documentary about her life, Alexis Arquette: She's My Brother, debuted at the Tribeca Film Festival. 
But despite her large filmography, Arquette is probably most well known for her activism and advocacy of transgender issues off screen. She addressed her life as a transgender woman during Chaz Bono's coming out as a transgender male on CNN's Larry King Live in 2009. 
"I think it's really common for people to believe that it's alright to ask really uncomfortable questions to transgender people," Arquette said on the air. "If you're meeting somebody that you know, they feel often that it's OK to ask you if you're pre-op or post-op."
The segment itself already comes off as offensive, with the words "born in the wrong body" and "The Life of Transgenders" flashing across the screen as Arquette speaks. 
Before Laverne Cox or Tangerine, Arquette brought transgender people into television screens across America when she starred in the sixth and final season of the Surreal Life in 2005. 
Arquette confronted people who were hurling transphobic slurs at her and speaking about her sexual organs during the filming of the show. The clip online is from a Spanish show, but Arquette and other commenters speak in English. 
(Trigger warning: misgendering and transphobia throughout the video.) 
"People are usually shocked when transgender people stand up for themselves," Arquette says in the clip above. "And then they often realize they put their foot in their mouth." 
At the time of Arquette's death, her brother Richmond Arquette posted a note that used male pronouns and had announced that Alexis had once again started to call herself a "brother." According to ET Online, Alexis Arquette's brother David Arquette said that at the time of her death, Alexis Arquette had become "gender suspicious." 
While we don't know which pronouns she used at the time of her death, we do have her own words from a YouTube video that was posted in 2009. In the clip, Arquette explains being assigned male at birth, raised as a male child, but identifying with femininity. 
"Up until I was about 5 years, I would always line up with the girls ... lining up with the girls, wanting to wear dresses. And for the most part, they allowed me to. And then when I became a teenager around 13, 14, my parents sent me out to LA to get away from club life. I was actually going out at the age, 13. Ended up living in Portugal and when I was there, I'd always be in skirts and stuff. It wasn't exactly drag, it was just a boy in a dress."