Here's exactly how much Hillary Clinton says she will reduce your student debt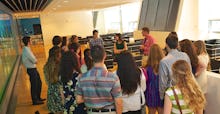 Democratic presidential nominee Hillary Clinton says she will reduce your total student debt by $1,920. 
Well maybe not exactly you. But someone very possibly like you. 
According to figures from a new student-debt calculator Clinton's campaign released today, that's how much she would save a typical college graduate with the average student loan balance of $37,000; who has 10 years left to pay it at the current interest rate on federal loans, 4.66%; and who also makes the median salary for recent graduates, about $51,000 a year.
That person would, according to the calculator, save $192 per year over the remaining decade-long life of the loan.
Clinton's site aims to show how, under her administration, your college debt would shrink because monthly repayment would be capped based on your income — hence, the chance to pay $277 a month instead of $386 — and because you'd be able to refinance loans at this year's interest rate of 3.8%.
While your details may differ from the averages Mic plugged in, the calculator allows you to fill in your own specifics. Clinton's default numbers are a bit different from Mic's — her calculator assumes a 6.8% student loan interest rate and suggests a typical American would save $5,160.
"Very few people have an interest rate of 6.8%," said Kalman Chany, the president of Campus Consultants and author of Paying for College Without Going Broke, "and in some cases people have loans with interest rates lower than the current 3.8%, so it wouldn't help them to refinance."
He pointed out that when you open the calculator, it is set to make it look like there will be significant savings, but that may not be the case for everyone. 
"It is interesting to look at," he said, "but it is just a proposal."
Clinton's student loan plan would also offer benefits like loan forgiveness if you work in public service, interest-free loan deferment for up to 3 years if you're an entrepreneur, and money toward your loans if you served in AmeriCorps. It also includes loan forgiveness after 20 years.
There's also an option for prospective students and parents on Clinton's calculator site. By plugging in your state of residence, household income and what kind of school you plan to attend, it will let you know how much you can expect to save under her plan.
It's important to note that some of the benefits Clinton's plan offers are already in place: In 2013 President Barack Obama officially linked federal student loan rates to the markets, and in 2014 he implemented income-based repayment plans. He also shortened the period of time before which you can receive loan forgiveness — from 25 to 20 years — as part of the Health Care and Education Reconciliation Act of 2010, much of which went into effect in 2014.
As for Republican presidential nominee Donald Trump, it's unclear how his presidency would address the student debt crisis; despite acknowledging the problem, he has yet to put forth a comprehensive plan.
Luckily, if you're in need of education debt relief, there are steps you can take today to reduce your student loans: You don't have to wait for the next White House administration for that.
Just be warned that if you refinance a federal loan with a private company you forfeit the benefits of the student loan — like income-based repayment plans and loan forgiveness.