TLC's 'Sister Wives' want SCOTUS to legalize polygamy. Here's why that can never happen.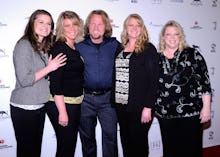 Having suffered a defeat when Utah restored its polygamy ban in April, the women of TLC's Sister Wives intend to bring their battle over shared husband Kody Brown to the Supreme Court. 
According to Yahoo, the Browns formally requested a hearing on Monday, and while it's unlikely that they'll have their day in court, their dogged fight to legalize polygamy necessitates a reminder: The practice of keeping multiple wives is illegal for a reason, which is that polygamist sects have traditionally sanctioned the rampant sex abuse of women and children.
The Browns — Kody and his four wives: Meri, Christine, Janelle and Robyn, one of whom is Kody's legal spouse, while the others were "spiritual marriages" — star on TLC's reality TV show Sister Wives. Previously residents of Utah, they relocated to Las Vegas after the show prompted an investigation into their lifestyle: Polygamy is illegal in Utah and has been since it became a state in 1896. 
Utah remains mostly Mormon, but while the Church of Jesus Christ of Latter-day Saints formally denounces polygamy, fundamentalist Mormons  — of which there are about 38,000, according to Jezebel — do not. The Browns are fundamentalist, members of the Apostolic United Brethren. They argue that, in prohibiting a married couple from cohabiting with other partners to whom they are not married, Utah's law threatens their religious liberties and right to privacy (although they have not been charged). 
In 2013, U.S. District Judge Clark Waddoups ruled in their favor, decriminalizing the cohabitation element of Utah's law. But in April, Utah overturned that decision, prompting the family's lawyer to revisit the themes of personal liberty and privacy.
"The underlying rights of religious freedom and free speech are certainly too great to abandon after prevailing below in this case," the Browns' attorney, Jonathan Turley, said of the court's decision. "Utah is a state that was founded by courageous citizens seeking these very protections from government abuse and religious inequality. This lawsuit is true to the original dream of those seeking freedom in Utah."
The protection of personal liberty and privacy are part of the problem. According to the Washington Post, the ban really only comes into play when polygamy is linked to other crimes, such as sexual assault and abuse of minors, instances of which have long plagued the fundamentalist Mormon community. 
Take, for example, the case of Warren Jeffs, probably the most high-profile example in recent memory. Formerly the polygamist leader of the Fundamentalist Church of Jesus Christ of Latter-day Saints, Jeffs was convicted in 2011 of aggravated sexual assault of a 12-year-old girl and sexual assault of a 15-year-old girl, two of his 78 "spiritual wives." 
Jeffs received two life sentences plus 20 years in prison for his crimes, but these offer a narrow window into his decades-long practice of sexual abuse. At his trial, Jeffs' nephew — Brent Jeffs — testified that his uncle raped him when Brent was just 5 years old. In 2015, Jeffs' son and daughter both accused him of sexual abuse, saying that others among their siblings — of which they have about 60 — had suffered similar treatment at Jeffs' hands. 
With Jeffs incarcerated, brother Lyle Jeffs is the de facto head of the church, although the former leader reportedly remains at the helm. But Lyle Jeffs does not seem much different from his brother, practically speaking: His estranged wife, Charlene Jeffs, fought for and won custody of their two teenage daughters, whom she feared would be forced into the traumatic sex rituals FLDS women were forced to endure as part of the community. 
According to Charlene Jeffs, FLDS men are no longer allowed contact with their wives, that privilege being reserved for a select group of "seed bearers," people chosen by religious leaders and responsible for procreating with all the women.
"It is the husband's responsibility to hold the hands of their wives while the seed bearer 'spreads his seed,'" Charlene Jeffs wrote in her custody petition, according to the Salt Lake Tribune. "In layman terms, the husband is required to sit in the room while the chosen seed bearer, or a couple of them, rape his wife or wives."
A look behind the FLDS curtain reveals habitual rape, kidnapping, fraud and molestation of minors, all of which was allowed to run rampant because one man and his chosen few were able to argue that their behavior aligned with and was justified by their religious beliefs. According to Sam Brower, a private investigator who has been following the FLDS for over a decade and spoke with CNN, the actual drive behind these behaviors is "sex, money and power."
These abuses are not confined to the Jeffs patriarchy. Rosemary Williams, another TLC star who appeared on My Five Wives, alleged in 2014 that her father — Lynn A. Thompson, leader of the Apostolic United Brethren — molested her when she was a child. In 2010, a woman born into an FLDS colony in British Columbia, Canada, testified that her father forced her to perform oral sex on him, beginning when she was three years old. 
The Browns argue that they are trying to change the image of polygamy as a veil for sex crimes, but overturning the ban would — and has — made flagrant offenses hard to prosecute. The ban exists to keep people safe.
"This is not the prosecution to persecute a people," prosecutor Eric Nichols explained during Warren Jeffs' trial. "This is a prosecution to protect a people."