North Carolina voting deadlines: Here are the most important registration dates to know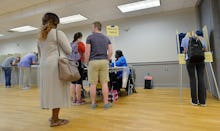 With polls showing the race between Hillary Clinton and Donald Trump neck-and-neck in North Carolina, here's a guide to key dates ahead of Election Day in the Tar Heel State.
Voter Registration Deadline
North Carolina does not let voters register online. Voters must fill out their voter registration form and mail it to their county board of elections by Friday, Oct. 14. 
North Carolina does not offer voter registration on election day, so Oct. 14 is the last opportunity to for residents to be sure they can vote on Nov. 8.
Early Voting
Early voting begins Oct. 20 in North Carolina, but the date can vary by county. Residents can cast their ballot in person at a location designated by the county board of elections or by voting absentee through the mail. Early voting ends on Nov. 5, three days before the election, although civilian, military and overseas voters have until Election Day to return their ballots.