Environmentally friendly products every conscious cooker needs in their kitchen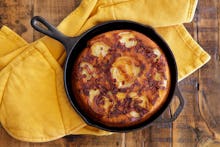 Tin foil, cupcake liners, coffee filters... the list of disposable supplies goes on and on for kitchen-dwellers. 
Spend less time taking out the trash and more time cooking and baking with these green kitchen hacks that limit waste and still help you make great food.
Silicone cupcake liners
If you're making muffins, cupcakes or mini quiches at home, these reusable silicone cups are just as easy — if not easier — to use as paper liners, and they're eco-friendly, as you can use them again and again. 
Try: Chicago Metallic 12-piece Silicone Baking Cups, $5.59 at Target.com.
French press
Not only does this coffee maker not use electricity (especially if you're using it to make overnight cold brew and don't even need to heat water!), it doesn't require any disposable elements like K-cups or paper coffee filters. French Press coffee makers also come in a variety of sizes, so you can brew a cup just for yourself or a whole brunch party. 
Try: Bodum 34-ounce French Press, $20 at Bodum.com.
Reusable coffee filter
If pressing coffee isn't your thing, consider replacing your coffee filters with a permanent metal filter, which will save you money in the long run. Filters are available for drip machines and pour-over Chemex coffee makers. 
Try: Osaka Titanium Coated Pour Over Cone Dripper, $24.99 at OsakaCoffee.com.
Food huggers
Instead of wrapping that half-eaten cucumber in foil or worse, throwing it away, cap it up with a food hugger. These reusable gadgets fit all types of produce and jars to keep your food fresh with minimum waste. 
Try: Farberware Food Huggers, $9.95 at SurLaTable.com
Cloth towels 
You know that roll of paper towels you go through on a weekly basis? You can simultaenously cut down your waste and your paper goods budget with some good, old-fashioned rags. Consider cutting up old clothing and towels as rags to clean with and invest in a few cute kitchen towels to use for drying hands or dapping at a small spill. Just throw them in with your laundry and you've saved a tree or a whole forest! 
Try: Diner Stripe Kitchen Towel, $10 at KateSpade.com
Silpat mat
This reusable silicon mat replaces the need for parchment paper in pretty much all of your baking. It's easy to clean, keeps your pans like-new and can be used over and over again. 
Try: Silbread Silicone Half Sheet Pan Liner, $38.95 at Williams-Sonoma.com. 
Save your scraps 
All those vegetable shreds, ends and skins leftover from cooking? Freeze them! Chicken carcasses and beef bones? Freeze those too. When you have enough freezer scraps, add them to a soup pot with water, salt and your choice of seasonings and let them cook for a few hours until you have a flavorful broth. No recipe needed, but if you need some guidance, check out Oh My Veggies.