Delaney Robinson "did everything a rape victim is supposed to do" and UNC refuses to act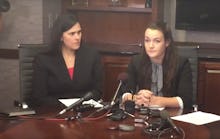 A student at the University of North Carolina Chapel Hill alleged Tuesday that a football player at the school raped her in February and that UNC has done next to nothing about it, despite the fact that she used all the right avenues in informing both administrators and authorities.
"I did everything a rape victim is supposed to do," Delaney Robinson, a UNC sophomore, said in a statement. "I reported it. I allowed the rape kit to be taken. I gave a statement. I cooperated with law enforcement and the Title IX office. But six months later the university has done nothing."
In a press conference held Tuesday afternoon, Robinson said that UNC linebacker Allen Artis, a junior, raped her in the on-campus Ram Village apartments on Feb. 14. She had been drinking, she explained, adding that drunkenness "does not give anyone the right to violate me. I did not deserve to be raped." 
After the assault, Robinson said in her statement, she went to the hospital, told her nurse everything she could remember and submitted to a rape kit. She then reported the incident to the UNC Department of Public Safety, where, she said, she encountered a string of "humiliating and accusatory" questions: 
"What was I wearing? What was I drinking? How much did I drink? How much did I eat that day? Did I lead him on? Had I hooked up with him before? Do I often have one night stands? Did I even say no? What is my sexual history? How many men have I slept with?"
Artis, meanwhile, seemed to enjoy the DPS' confidence: When she listened to the recording of his testimony, she said, her "humiliation turned to anger" because investigators handled him with kid gloves. 
"They provided reassurances when he became upset," she said. "They even laughed with him when he told them how many girls' phone numbers he had managed to get on the same night he raped me. They told him, 'Don't sweat it, just keep on living your life and playing football.'"
In light of that boys' club-type treatment, it should come as no surprise to learn that Artis remains on campus: As BuzzFeed reported, UNC has not yet decided the case, even though the school wrapped its investigation three months ago. 
In an emailed statement to Mic, a UNC spokesperson explained that the school revised its Title IX policies two years ago, and that the new one "establishes a rigorous process conducted by well-trained investigators. The university provides compassionate care to all students who need support," but cannot respond to the allegations.
UNC did indeed adopt a new policy in 2014, one that "100% agreement ... communicated clearly" constitutes consent. It also stipulates that incapacitation by drugs or alcohol precludes the possibility of giving consent, but "no matter the level of an individual's intoxication, if that individual has not firmly agreed to engage in sexual contact, there is not consent."
According to ABC 11 News, the DPS told Robinson's attorney, Denise Branch, they lacked requisite evidence to pursue criminal charges, even though Robinson's post-rape exam revealed physical marks from the encounter with Artis. Branch also said the university is waiting on Robinson's blood alcohol content level before it makes its decision, a violation of Title IX. The school has also exceeded the 90 days allotted a campus sexual assault investigation under Title IX.
"Despite her cooperation [with police] and strong physical evidence, no action has been taken against the student who raped her," Branch said, according to the Daily Beast. 
Robinson is coming forward to ensure that other victims don't face the same treatment for speaking out.
"This man raped me and the police told him not to sweat it," Robinson said in her statement. "How can this happen? Where's the protection for students? Why does the university not care that this rapist is free and could possibly harm another student?"