If he wins, Donald Trump will be the oldest president elected in US history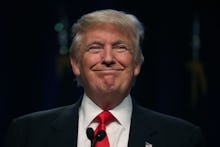 When Ronald Reagan was sworn into office on Jan. 20, 1981, he was 69 years old, making him the oldest president in U.S. history.
If elected, Republican nominee Donald Trump would be 70 years old, becoming the oldest first-term president of the United States. Just a few months into office, he will turn 71 on June 14, 2017.
Democratic nominee Hillary Clinton will be 69 years old on Inauguration Day.
With questions swirling around Hillary Clinton's health, many voters and political pundits are wondering if the campaign trail, and possibly the Oval Office itself, is too much for someone of that age to handle.
Ten of the nation's 44 presidents have been age 60 or older when they took office. The average age is for a newly elected president is mid-50s.
In 1841, William Henry Harrison was sworn into office at age 68. He died 32 days later of pneumonia, the same illness that Clinton says caused her to abruptly leave the 9/11 memorial service in lower Manhattan on Sunday. Medical advancements have greatly improved the treatment of pneumonia since then, but many medical experts warn that it can be more severe for patients 65 and older.
The constitution requires candidates running for president to be at least 35 years old when they take office. The youngest president at election in U.S. history was John F. Kennedy, who was just 43 years old when he was sworn in on Jan. 20, 1961, although Theodore Roosevelt was only 42 when he took over for the assassinated President William McKinley.
Former President Bill Clinton, Hillary Clinton's husband, was the second-youngest president at election. He was 46 years old when he took office in January 1993.