Iowa voting guide: Here are the most important deadlines and registration dates to know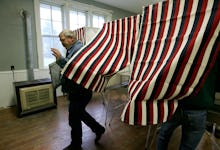 Having broken twice for President Barack Obama, polling shows Iowa could go either way in this presidential election. 
While Obama won the state by almost six points in 2012, surveys show Donald Trump barely leading Hillary Clinton in the Hawkeye State, which has gone Democratic in all but one election since 1988. With the state's six electoral votes are up for grabs, Iowans need to know a few important dates. 
Voter Registration Deadline
Iowa does allow residents to register online, though they must provide an ID. Iowans can also fill out a paper voter registration form and send it to their county auditor's office.
Because Iowa allows registration on election day at a resident's assigned polling place, there is no deadline to register to vote. But there are special rules for residents who register to vote the same day they cast their ballot, including a photo ID requirement.
Early Voting
Early voting begins for Iowans on Thursday, Sept. 29. In Iowa, early voting is considered "in-person absentee voting," which allows residents to cast an absentee ballot either through the mail or in-person before an election.