7 surefire ways to befriend locals while traveling — without being too creepy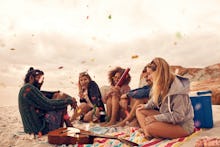 When the cold summit air catches your breath at sunrise. When you get an instant buzz from your first sip of a piña colada in the infinity pool. When you feel proud to have tried that roasted pig eye on a bed of sprouts. 
These are the moments that we might expect on vacation, but as a solo traveler, you never know with whom you'll share them. It's the people you run into that throw the best curveballs and transform an impeccably planned trip into a spontaneous adventure. 
There are some tried and true strategies to befriend some of the vacation-changing locals out there, but you have to be willing to talk to strangers, to occasionally abandon technology and to deviate from the itinerary. Check out some tips below:
1. Sign up for an event planner like Meetup. 
Meetup's catch phrase is "find your people." There are Meetup groups in almost every city for almost every interest one can dream up, from NYC's Harry Potter Meetup to LA's "Lazy Ass Hiking" Meetup. Sounds like a surefire to find your people no matter the locale.
2. Stay in a hostel. 
Hostels aren't just for 21-year-olds backpacking their way through Europe anymore — and they offer an incredible way to experience a city with likeminded travelers. Plus, it's easy to meet locals through the people that work there — including said workers themselves — as it's their job to show travelers a good time. HI Hostels are located all over the world and have built their business around a mission that encourages fulfilled travel through a deeper understanding of the people you meet.  
3. Take a class conducive to socializing. 
Vacation is the perfect time to finally sign up for that mixology class you've been wanting to take — or swing dance, or pottery, or whatever obscure skill you've been wanting to learn. The bottom line is that all of these options provide an ideal environment for bonding over shared interests with new friends.   
4. Ask employees questions. 
Chat with waiters, cashiers, Uber drivers, baristas and bartenders. Locals who love where they live are usually more than willing to brag about their favorite spots — so ask them to share their top three things to do in the city.
5. Take a guided tour and talk to the tour guide. 
They know their city like the back of their hand and will likely have some great off-the-beaten-path recommendations. Urban Adventures is one tour company that does an awesome job at providing truly local, culturally immersive experiences that allow travelers to get to know new cities and the people that live there.
6. Go to a networking event. 
Whether you love or hate the concept of networking, it's a guaranteed way to meet some new folks. Regardless of the term's reputation, not all "network" events are full of stuffy suits and clammy handshakes these days. A quick search of Eventbrite for "Networking Events" will bring up all sorts of interesting get-togethers from professional networking tea tastings to startup cocktail conversations.    
7. Sit at the bar. 
We saved the best for last — and it also happens to be one of the easiest tactics in the book: You almost have to make an effort not to make friends when you take a seat at the bar. So if all else fails, grab an open bar stool and say hello to your neighbor.
Whether you happen to meet a crew of smokejumpers in West Yellowstone that enlighten you on the most badass job out there, or a Polish wife and Italian husband duo that can teach you how to make pierogis in their Krakow home — it will assuredly be worth the minimal effort it took to meet them. So add these strategies to your packing list and pencil in some time to befriend the locals.