Here are the odds for 'Game of Thrones' to win each of its Emmy nominations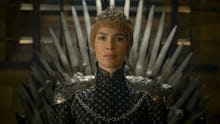 The Emmys are still obsessed with Westeros, if the 2016 Creative Arts Emmys ceremonies were any indication. During Saturday and Sunday's awards, Game of Thrones added nine more awards to its sprawling amount of Emmy wins.
Those were the technical awards, however, and the biggest prizes await for Sunday — where the HBO series has eight more nominations on the table (albeit some in the same category). Given Thrones' storied history at the Emmys (106 nominations!), what are the chances the series sweep their categories this year? Let's break down the competition.
Outstanding drama series
There are some impressive newcomers this year: The Americans was long overdue for a nomination, and Mr. Robot's first season has already put it on the map as one of television's most imaginative shows. But before either series is suggested as a dark horse, consider this: After Game of Thrones won the category last year — for its most controversial and arguably weakest season to date — why wouldn't it win in 2016?
Despite season six straying far past George R.R. Martin's source material, Game of Thrones was at full strength this year, solving some of the series' biggest mysteries (Jon Snow's real parents!) while providing, arguably, the most epic battle sequence in television history. The show will be dethroned eventually — but 2016 probably won't be the year it gives up the crown.
Outstanding supporting actress in a drama series
There are three actresses from Game of Thrones in the category this year: Lena Headey, Emilia Clarke and Maisie Williams, the latter of whom was understandably excited about her first nomination. But really, this category is Headey's to lose.
Headey's character, Cersei Lannister, had a pretty quiet season, which would've ordinarily excluded Headey from serious consideration. But then came the show's explosive season finale. A quick recap: Cersei exacted her revenge on the High Sparrow by refusing to go to her trial at the Sept of Baelor, instead setting the Sept ablaze with wildfire.
Headey had plenty of memorable scenes in the finale: watching the Sept crumble, basking in its destruction with a glass of wine; torturing Septa Unella; her icy reaction to learning that her son, King Tommen, committed suicide; and finally, being crowned as the new Protector of the Realm.
Long may she reign — and earn Headey a much-deserved Emmy this year.
Outstanding supporting actor in a drama series
Kit Harington and Peter Dinklage serve as the Game of Thrones entries into the supporting actor in a drama series category, which also includes the likes of a character appearing solely in flashbacks (Ben Mendelsohn in Bloodline) and Jonathan Banks' Mike in Better Call Saul.
While Banks deserves more recognition for his work in Better Call Saul and Breaking Bad — and is certainly a frontrunner — this could be Harington's year. Granted, he's not always been lauded for his mopey interpretation of Jon Snow, but he had a busy season: He was brought back to life, fought an epic battle against the most hated man in television and became the new King in the North.
The aforementioned "Battle of the Bastards," moreover, brought out an impressively committed performance from within Harington. He didn't have much dialogue, but he compensated for that with his eyes. Seriously, the look he gives Ramsay after he nearly suffocates is inhuman rage.
Jon Snow may not know anything, but if Harington's ever going to win an Emmy, this is the year.
Outstanding directing for a drama series
There are two Game of Thrones episodes up for the directing Emmy (alongside three other nominees), and it's tough to pick which has the best chance. There's the episode from Jack Bender, "The Door," where we learn the heartbreaking origins of Hodor, and the chaotic technical masterpiece that was Miguel Sapochnik's "Battle of the Bastards."
Ultimately, though, the sheer scope of Sapochnik's battle — featuring 500 extras and 70 horses over nearly a month of shooting — deserves recognition on Sunday.