6 things to know about Miss America Savvy Shields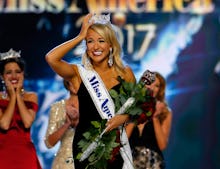 On Sunday night, 21-year-old Arkansas native Savvy Shields beat out 51 other contestants to take the crown of Miss America 2017.
Here's what you need to know about the beauty queen.
1. Her special talent is jazz dance.
Because what's a beauty pageant without jazz hands?
2. Her personal platform is "eat better, live better."
According to her website, Shields "aims to educate people on how the foods we eat really make an impact on our lives as a whole." Shields is a National Goodwill Ambassador, according to her Miss America bio. 
3. Shields is an art major at the University of Arkansas.
The Fayetteville, Arkansas, native is a senior at the University of Arkansas, according to KATV. She hopes to turn her studies into a career working in museums. 
4. Shields had to talk politics at the Miss America 2017 pageant.
During the pageant, Shields fielded a question about the 2016 election with diplomatic vagueness. When asked about Hillary Clinton, she said, "If you're trying to be leader of the free world, everything you say and do matters and all of your actions are held to a higher standard. ... Both of the contestants have done a job but they also need to watch what they're doing."
5. She's terrible at baton twirling.
In a video uploaded to her Facebook page earlier this month, Shields tried out baton twirling. And how did it go? "Today I learned I will not be changing my talent to baton twirling," she wrote.
6. Coffee keeps her going.
Like many busy people, Shields relies on coffee to get her through her packed days. Speaking about the whirlwind journey from Miss Arkansas to the Miss America Pageant in an August interview with the Arkansas Traveler, her college paper, she said, "I have just been clinging to coffee like it's my bible. ... I've been living off a good four or five cups a day for weeks."