Here's how to download iOS 10 simply and quickly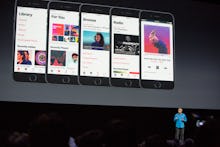 Apple rolls out a major software upgrade on Sept. 13 with the arrival of iOS 10. Featuring significant changes to messaging, Siri and several native apps, anticipation is running high for the retooled operating system. Here's how to download iOS 10 simply and quickly:
1. Make sure your device is compatible
As usual, older Apple devices will no longer update to a new operating system. Below is a complete list of Apple products compatible with iOS 10:
For those of you holding on to that iPhone 4s, it might be time to hang it up.
2. Back up your data 
It's always a good idea to back up your data before downloading a new update, just in case something goes wrong. 
There are two ways to do this: The easier method requires backing up directly from your iPhone, iPad or iPod to iCloud. Ensure you're connected to Wi-Fi, then follow these steps: Settings > iCloud > Backup > Back Up Now. 
If iCloud is not an option, go ahead on backup your device via iTunes. To do this, plug in your mobile device to your Apple computer and select "Back Up" in the iTunes menu. 
3. Update to iOS 9.3.5
Your device may have automatically done this, but if not, go to Settings > General > Software Update to ensure you have the newest update before installing iOS 10. 
4. Install iOS 10
Now you're all set to download iOS 10. Just like with the iOS 9.3.5 update, head into Settings > General > Software Update to install the latest operating system. Make sure your device is plugged into a power source.
The easiest way to do it is straight from your device wirelessly via Wi-Fi, but again, iTunes is an option as well. To download on iTunes, select your device in the side panel  and click "Check for Update."