A traditionally dressed Muslim woman was set on fire in possible hate crime in NYC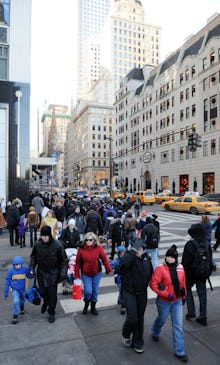 A woman dressed in traditional Muslim clothing was set on fire by an attacker Saturday night in Midtown Manhattan, the New York Daily News reports. Her blouse caught fire, but she was able to put it out herself and is reportedly physically unharmed after the attack.
The suspect allegedly lit the woman's shirt on fire as she stood outside the Valentino store on Fifth Avenue shortly after 9 p.m., the Daily News reports, before walking away from the scene without speaking to her.
The NYPD Hate Crimes Task Force is reportedly investigating the attack to determine if it was an anti-Muslim hate crime, according to the Daily News.
Saturday's incident comes a month after an Imam and his assistant were fatally shot outside their mosque in Queens in August. 
Just last week, two Muslim women were walking with their children in Brooklyn when a woman attacked them, telling them to "Get the fuck out of America, bitches" and trying to pull off their hijabs.