These 4 Paralympic runners would have beaten every Olympic runner in the 1500m final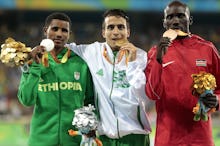 Algerian runner Fouad Baka might have been disappointed when he only placed fourth in the Paralympic Games' T13 1500m final — a race for athletes with visual impairments — on Sunday with an impressive time of 3:49.59. 
Had he finished the same race at the Olympic Games in the same amount of time, Baka would have walked away a gold medalist — he would have beaten United States Olympic runner Matthew Centrowitz Jr.'s time by a millisecond.
Of course, that means the three runners who claimed first, second and third place ahead of Baka outdid every 1500m Olympic runner with ease.
According to the Huffington Post, Kenya's Henry Kirwa took third with a time of 3:49.59, Ethiopia's Tamiru Demisse, second, at 3:48.59 and none other than Baka's brother, Abdellatif Baka, clinched first with a time of 3:48.29.
Runners in T13 races use neither blind folds nor optional guides, as they do in the T11 and T12 categories. According to the Paralympics' official website, sport class 11 athletes have "the lowest vision," while those in class 13 have the "best vision, meeting the minimum disability criteria." 
U.S. sprinter Marla Runyan, who's legally blind, remains one of just 11 athletes in history to compete in both the Olympics and the Paralympics. Runyan continued to compete in able-bodied races, claiming the first place title in the 1999 Pan American Games' 1500m and representing the U.S. in the 2000 and 2004 Olympics — just the icing on the cake of her five Paralympic titles. 
"It wasn't easy to get this gold medal," Sunday's gold medal winner Abdellatif Baka said, according to Huffington Post. "I've been working one or two years nonstop and it's been very, very hard for me."