Transgender woman slain in Chicago's Garfield Park is 20th transgender killing this year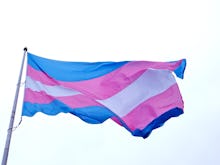 A transgender woman named T.T. Saffore was found dead in Chicago's Garfield Park on Sunday night, according to sources close to the Windy City Times. The woman's throat was slit and a knife was nearby. 
A friend and organizer of a vigil taking place Monday night, identified as Jaliyah Armstrong by Chicago's WGN, was friends with Saffore for seven years. 
"T.T. was a lovely person," Armstrong told the Times. "She was laughing all the time. You could be going through a bad day but once you saw [T.T.], she was such a happy cheerful person all that changed."
Armstrong also told the Windy City Times that the two were incarcerated together and that Saffore helped her through the tough period. Saffore wanted to be a hair stylist. 
According to Armstrong, only a few days prior to her death, Saffore got into an altercation with another transgender woman. 
"Three days before [her death] she got into an altercation with a woman on Madison," Armstrong told the Times. "The girl pulled a knife on her and said 'I'm going to get you killed'."
According to Armstrong, Saffore did not report the incident to the police because she feared abuse. This type of fear is widespread among the LGBTQ community, according to the Anti-Violence Project's annual Hate Violence Report. Only 41% of survivors of hate violence reported their experience to police officers, and of those who did, 80% said they were met with indifference and hostility. Of the 24 reported hate violence homicides of LGBTQ people in 2015, 67% were transgender or gender nonconforming, according to the NCAVP's annual report on hate violence. Thirteen of the 24 — 54% of those killed — were trans women of color.
Saffore is the 20th reported transgender person who was killed in the United States in 2016. In August, two transgender women were found dead — Skye Mockabee and Rae'Lynn Thomas. 
"People don't know what we go through out here," Armstrong said. "They don't see the struggle being transgender on [Chicago's] West Side. It's crazy. I just want justice for my friend. Trans lives matter. She is the third person killed around here and there is nothing done about it."
The Chicago Police Department did not immediately return a request for comment. 
Mic will update the post as new information becomes available.