NCAA moves seven championship games from North Carolina in HB 2 protest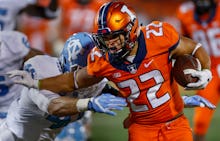 The NCAA announced Monday it will move seven championship games from their planned venues in North Carolina in protest of the state's HB 2 ordinance, adding another powerful body to the numerous high-profile groups and celebrities who have boycotted the state in support of LGBT rights.
"Based on the NCAA's commitment to fairness and inclusion, the association will relocate all seven previously awarded championship events from North Carolina during the 2016-17 academic year," the NCAA said in a statement. "The NCAA Board of Governors made this decision because of the cumulative actions taken by the state concerning civil rights protections."
The decision was necessary because "NCAA championships and events must promote an inclusive atmosphere for all college athletes, coaches, administrators and fans," the NCAA said.
In addition to mandating persons in the state use public bathrooms according to the biological sex listed on their birth certificate, HB 2 pre-empted all local and county LGBT nondiscrimination ordinances throughout the state and revoked state workers' right to sue in state courts for alleged discrimination. Though the law was later revised to restore litigation rights for workers, the bathroom-related provisions remained in effect, according to WUNC.
In response to the NCAA protest, the North Carolina GOP issued an official statement mocking the organization and accusing it of ignoring the party's (totally unsubstantiated) logic men could use the law as cover to commit sexual assaults, News & Observer/Charlotte Observer's Andrew Carter posted to Twitter.
"This is so absurd it's almost comical," North Carolina Republican Party spokeswoman Kami Mueller wrote. "I genuinely look forward to the NCAA merging all men's and women's teams together as singular, unified, unisex teams. Under the NCAA's logic, colleges should make cheerleaders and football players share bathrooms, showers and hotel rooms.
"This decision is an assault to female athletes across the nation. If you are unwilling to have women's bathrooms and locker rooms, how do you have a women's team? I wish the NCAA was this concerned about the women who were raped at Baylor. Perhaps the NCAA should stop with their political peacocking — and instead focus their energies on making sure our nation's collegiate athletes are safe, both on and off the field."
According to USA Today, the NCAA's decision follows the NBA's, which moved the upcoming 2017 All-Star Game from the city of Charlotte — at an estimated cost of $100 million to the city.
The Center for American Progress estimated the boycotts had already cost North Carolina $86.3 million between the law's passage in March and mid-April, with potentially hundreds of millions more on the line in the future, the News & Observer reported in May.