"Vote Trump" sign in Oregon comes complete with effigy of Clinton, hung from crane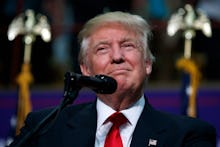 A man hung an effigy of Democratic presidential nominee Hillary Clinton from a crane near Sutherlin, Oregon, at the edge of Interstate 5, complete with signs that said "Vote Trump," "Uranium One" and "Treason? Ask Her," local television station KPIC reported Monday.
The effigy was apparently hung by a local man named Billy Pitner. "I'm allowed to have my feelings, right, wrong or indifferent," he told the station. "Here you are. Got your attention, didn't it?"
The "Uranium One" sign is a reference to reports earlier this year cash flowed to Clinton's family foundation as the Russian atomic energy agency, Rosatom, acquired Canadian company Uranium One. The deal was approved by cabinet officials including Clinton, according to the New York Times, even as people who potentially stood to benefit from the project had cut millions of dollars in checks to her husband, former President Bill Clinton. (As PolitiFact noted, claims of outright corruption seem mostly unsubstantiated, as the dates of the transactions mostly fail to match up with any seeming quid pro quo).
However, Republican presidential nominee Donald Trump and his campaign surrogates have winked at the notion Clinton deserves to be physically harmed, or just outright said so.
In August, Trump quipped "Second Amendment people" could "do" something to prevent Clinton from appointing pro-gun control nominees to the U.S. Supreme Court in remarks widely interpreted as concerning a potential assassination. Later that month, the campaign defended Al Baldasaro, a New Hampshire campaign adviser who called for Clinton to be "shot" amid the Republican National Convention in July.