Ryan Lochte's debut 'Dancing With the Stars' performance was interrupted by protesters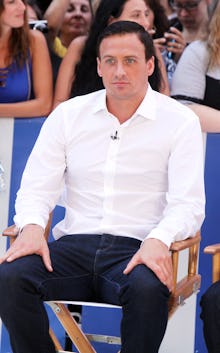 Ryan Lochte, who was caught lying about being robbed at gunpoint during the 2016 Rio Olympics, has made his way to the Dancing With the Stars stage. But some people weren't about to let him dance off into the sunset that easily.
The swimmer, who lost out on several endorsement deals following the fallout, had just wrapped up his debut performance on the ABC dance competition when two protesters rushed the stage, the Associated Press reported. 
Lochte and partner Cheryl Burke were getting their scores when the men, wearing anti-Lochte shirts, hopped on stage. The pair was later arrested, according to the LAPD.
According to the AP, following the incident, Lochte said he felt "a little hurt, but I came out here. I wanted to do something I'm completely not comfortable with, and I did."
The Olympic gold medalist was banned from the U.S. swim team for 10 months after he spun a drunken gas station confrontation into a tall tale of him and two of his teammates being violently robbed in Rio.