Kentucky governor echoes Donald Trump, warning of bloodshed if Hillary Clinton wins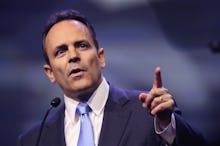 Kentucky Republican Gov. Matt Bevin warned that Americans may have to "physically" fight to preserve religious and conservative values if Hillary Clinton is elected president in November, saying that "blood" would need to be shed to "reclaim" those principles.
"I want us to be able to fight ideologically, mentally, spiritually, economically, so that we don't have to do it physically," Bevin said in a speech at the Values Voters Summit Saturday in Washington, D.C. "But that may, in fact, be the case."
He continued with a rhetorical question, asking, "Whose blood will be shed?" to stop the "slippery slope" of the "degradation" of society and its "gender-bending."
"It may be that of those in this room. It might be that of our children and grandchildren," Bevin said. "I have nine children. It breaks my heart to think that it might be their blood is needed to redeem something, to reclaim something that we, through our apathy and our indifference, have given away. Don't let it happen."
Bevin's comments echoed those of Republican presidential nominee Donald Trump, who last month said "Second Amendment people" could possibly do something if Clinton were elected to stop her from making Supreme Court nominations.
Other high-profile Trump supporters have made similarly doomsday comments about a potential Clinton victory in the fall.
Former Rep. Michele Bachmann recently said the 2016 presidential contest may be the "last election," should Clinton emerge victorious.
"Well, I don't want to be melodramatic, but I do want to be truthful. I believe without a shadow of a doubt this is the last election," Bachmann said in an interview with the Christian Broadcasting Network earlier this month. "This is it. This is the last election."
Trump also made similar comments to the CBN, saying he's the last hope Republicans have to ever see a Republican in the White House.
"I think this will be the last election if I don't win," Trump told CBN on Sept. 9. "I think this will be the last election that the Republicans have a chance of winning because you're going to have people flowing across the borders, you're going to have illegal immigrants coming in and they're going to be legalized and they're going to be able to vote and once that all happens you can forget it."