Rapper Young Paris accuses designer Patricia Field of selling coat with blackface cartoon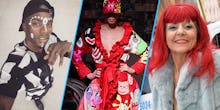 This again?
In July, overpriced jacket brand Moncler was widely criticized for releasing an entire line printed with a black smiley face and a wide red smile that some said reminded them of racist dolls, known as golliwogs, and racist depictions of black people from the late 19th century too.
Now, a very similar cartoon has made its way onto a high-end designer's jacket. And yet again, the internet, and specifically one rapper, is not having it.
On Sept. 7th, designer Patricia Field, who's known for bright, glittery, wild clothes and for outfitting the women on Sex and the City, hosted a fashion show for New York Fashion Week that combined art and clothing, and sent a jacket down the runway painted by Suzan Pitt. The jacket happened to have a familiar black smiley face painted on the right shoulder.
The man who caught it was rapper and creative director of #MelaninMonday Young Paris. Following Field's show last week, he went on a bit of an Instagram rant about the jacket calling Field a "tasteless designer," most of which has now been deleted.
"Ive been a fan of Patricia's work like anyone else and saw it in a clip on her Instagram," Young Paris said in an interview. "What's unfortunate is many people will see this, [and] feel the exact same way but may not have the confidence or feel they're voice won't be heard, so I took a stand. I think there are many of us that want to see a greater multicultural America and fashion has no place for racist imagery."
"Overall I found this piece tasteless and ignorant and I also feel like Suzan Pitt has the most explaining to do as she is the one who painted the image on this piece," he continued.
Following Paris's posts, an article was published on the news site Melinated regarding the jacket, asking the question: "Is Black Face Still OK in 2016?"
When Melinated's Twitter account posted the article, Patricia Field (or whoever was in charge of her Twitter) responded: "Cartoon faces of many colors. Relax!!"
And indeed, Field's collaboration with Pitt, whom we've also reached out to for comment, does include various different cartoons and smiley faces of all different colors. There was just this one black one though.
Then, Field went on: "Chill out. You don't know me and my views of American racism. Find out before you start accusing me."
In response to those comments, other Twitter users weighed in on why it is offensive to them personally.
Mic reached out to Melinated directly (we have yet to hear back), and to Field, who offered us what we suppose are her views on American racism.
First, she directed us to one of her Facebook posts from July 8, which, she said, "clearly describes my position regarding our African-American citizens."
Here is the post:
"The only thing I left out was my belief that we should have a holiday of thanks to all of our African-American citizens who gave their lives of generations in the disgusting American history of slavery," Field continued. "The proof of this is that the vast majority of American citizens do not even recognize or acknowledge Black History Month every February."
But still, the jacket was for sale on Field's website. That is, until Young Paris confronted Field directly.
Last night, Paris posted a video of himself speaking with Field on Instagram. In the caption, he wrote, "I spoke with Patricia, she understood, she took it down. I believe everything in life can end peacefully. Thanks for the support and I hope this sent a message." He also added the hashtag #DeathToBlackFace.
So while the painted jacket is gone from Pitt's page on Field's website, it's still strange that in 2016 the same type of racist imagery has appeared in fashion mere months apart — both at Moncler and in Field's latest collection.
"I'm at peace and I think I handled it in a responsible and mature way," Young Paris said. "I'm glad it got the attention it did because this creates more conversations around the subjects of oppression. I don't have any personal ill feelings towards Patricia and we ended it hugging it out after she said she would take it down and have no intentions on targeting her moving forward."
"But I will say this," Paris concluded. "If any of you see a smiling pitch black character with red lips going cheek to cheek this is a symbol of minstrelsy not only fashion but every industry will be called out and shamed every single time."
For companies like these, a little googling could go a long way.
September 13, 2016, 3:06 p.m.: This article has been updated to include quotes from Young Paris.