Who was Yma Sumac? Google Doodle honors the 'Peruvian songbird.'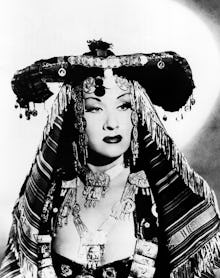 On Sept. 13, 1922, Zoila Augusta Emperatriz Chávarri del Castillo, better known by her stage name Yma Sumac, the "Peruvian songbird" was born. Her divine, unworldly voice, which stretched more than four octaves, was largely responsible for introducing Peruvian music to mainstream U.S. culture.
Google honored what would have been Sumac's 94th birthday on Tuesday with a Google Doodle of the iconic singer in one of her classic outfits she wore on tour. However, answering the question of who she was isn't exactly a straightforward query. The singer was a master at myth-making and controlling her own narrative. Much of what we know about her varies between reports she gave, but it only serves to make her more of a fascinating talent.
"Her whole career and life is based on her mystery, and so the facts and fiction is a fine line with her," Damon Devine, her personal assistant, once told the Los Angeles Times, according to her obit.
Born in the highlands of Peru, Sumac started singing at 9, though some reports offer that her parents largely discouraged her from singing, as a career in music would not fit her royal blood (she supposedly descended from the last Incan emperor, Atahualpa). However, her parents couldn't stop her musical aspirations and she would often venture up into the mountains and forest to sing to the rocks and mimic the calls of birds. 
An Argentinian radio show eventually discovered Sumac's talent when she was a teenager and moved to Argentina to start recording music. She eventually took her act to America and began touring nightclubs and major concert venues in outfits that piqued Eisenhower America's taste for more "exotic" forms of entertainment.
Sumac signed with Capitol Records in 1950 and went on to record a plethora of albums, singing in her indigenous Quechua language.
"During her 1950s prime, she sang at Carnegie Hall, the Hollywood Bowl and Royal Albert Hall — to name a few," Google noted in a blog post about their decision to highlight Sumac on Tuesday. "Here's to Yma, whose captivating voice will always be remembered."
Her ethereal vocals on "Bo Mambo" have been featured in Black Eyed Peas' "Hands Up," the Avalanches used her "Gopher" hymns for "Stay Another Season" and hip-hop producers continue to remix all four of her octaves into new beats. Even RuPaul's Drag Race used her "Malambo No. 1" for an iconic lip sync showdown. 
"She is five singers in one," Sumac's ex-husband Moises Vivanco told the Associated Press in 1951. "Never in 2,000 years has there been another voice like hers."
It seems the only way to explain the modern infatuation with her is that there is simply no other artist quite like her. While the Google Doodle will likely prompt younger audiences to explore Sumac's music, anyone who's heard her captivating sounds knows her voice lives on.