When is the first presidential debate? Here's the 2016 election debate lineup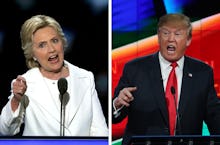 In less than two weeks, Hillary Clinton and Donald Trump will stand before tens of millions of viewers to make their case for the White House. The first presidential debate will be held Sept. 26 at Hofstra University in New York. 
The second debate is scheduled for Oct. 9 at Washington University in St. Louis. The third debate is slated for Oct. 19 at the University of Nevada, Las Vegas. All of the debates will take place from 9 p.m. to 10:30 p.m. Eastern.
The Commission on Presidential Debates has yet to announce which candidates will make the stage, but Gary Johnson's chances of making the debates seem low. Though a majority of Americans say Johnson should be on the debate stage, his polling has hovered below 10 percent for months. To be invited to the debates, a candidate must average at least 15 percent in five polls. 
The run-up to the first debate is sure to be intense. Trump has already questioned the fairness of the debate moderators, a possible move to give himself an out from a face-off against Clinton. And both candidates, especially Trump, have been accused of a challenged relationship with the truth.
Matt Lauer recently moderated a presidential forum where the NBC anchor was criticized for focusing on Clinton's emails and not calling out Trump on his lies. In response, the New York Times editorial board wrote that TV journalists questioning these candidates could make for "a debate disaster" if they don't hold the candidates accountable.