Donald Trump's medical record release is the reality TV hot mess America deserves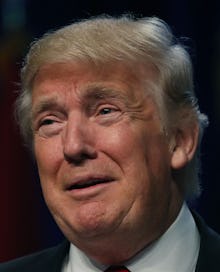 In a tacit admission that the over-the-top health letter written in five minutes by Dr. Harold Bornstein wasn't sufficient enough, Donald Trump says he will now reveal a more thorough analysis of his health history.
However, a new report from Fox News hints that the release of the 70-year-old's health records will perhaps be no less theatrical than Bornstein's initial claim that Trump would be the "healthiest individual ever elected to the presidency."
According to a report from Fox & Friends co-host Brian Kilmeade, Americans won't get the opportunity to hear from the doctor who actually conducted Trump's physical. Instead, the public will get a reality TV-style spectacle in which Dr. Mehmet Oz will host a "surprise" reveal of his physical to Trump, set to air on Oz's widely panned health-focused talk show.
"Trump will turn over those records right to Dr. Oz and he will analyze it and it will be a surprise to Donald Trump what Dr. Oz is going to say," Kilmeade said on Fox News Tuesday morning.
Oz has come under fire from medical professionals, who say Oz doles out "quack treatments" not based on medical evidence or research on his hour-long show.
In April 2015, 10 surgeons and physicians from Columbia University's medical school wrote a letter to the dean asking for Oz to be removed from the school's faculty, saying Oz has a "disdain for science and for evidence-based medicine."
The swirling criticism surrounding Oz's medical know-how takes what should be a serious issue and turns it into reality television drivel.
It also plays into Hillary Clinton's argument that Trump is running a "reality television program" and not a serious presidential campaign.
It's also unclear how a reality TV reveal of his health records by a discredited doctor will help silence Trump critics, who say the GOP nominee has not been transparent enough about his health, personal finances or business dealings.
So it was unsurprising Twitter erupted into a sarcastic frenzy after the Fox News report on the Dr. Oz news.
Trump's interview with Dr. Oz will air on Thursday, four days after Clinton's announcement that she'd been diagnosed with pneumonia put the candidates' health at the forefront of the 2016 debate.