Meet the people behind this awesome period-themed board game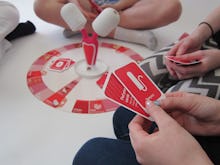 If you've ever wanted to play a game version of your period — here's your chance. The Period Game, a board game designed as an educational tool to teach kids about menstruation, is also a rad way to celebrate periods. Players can play as a tiny tampon or a menstrual cup and learn about period prep and PMS symptoms as they make their way around the board, trying to beat their friends from start (menarche) to the "finish" spot.
And game creator Daniela Gilsanz hopes that someday in the not-too-distant future, the Period Game will be in homes and schools across the country.
Gilsanz and her co-creater, Ryan Murphy, came up with the idea for the Period Game two years ago, when they were students at the Rhode Island School of Design. They were given an assignment to design "some sort of game about the body" and Gilsanz wanted to focus on menstruation.
Murphy, she said, was maybe a little "less excited about it at the beginning." But they both got into it, and put together the first version of what would become the Period Game. 
When Gilsanz and Murphy presented the game to their classmates, she noticed something interesting. Even on what Gilsanz described as RISD's "very liberal" campus, openly talking about menstruation made some people a little uncomfortable. 
This was "crazy to me," she said. The stigma around periods was real — but maybe, by playing a gamified version of menstruation, she could make it less taboo for people who felt uncomfortable.
So Gilsanz and Murphy decided to keep working on the Period Game after graduation, and now they're shopping the prototype around, hoping to find partners that will help make the game available to everyone and bring period talk into family game night.
The Period Game is meant for kids to learn about puberty and menstruation — but, in testing it out on her friends, Gilsanz has noticed that adults can learn from playing the game too.
"Guys at school were like 'we had no idea you could get a fever' [as a PMS symptom]" Gilsanz said. 
The Period Game isn't finished yet — Gilsanz and Murphy still want to find partners to help work on the gameplay and eventually bring it to market – but they've already given it to a group of kids to test it out.
"We played with a bunch of 9 to 11-year-old girls, which was the coolest experience," Gilsanz said. "It was just awesome, they were asking such cool questions." 
But Gilsanz notes that the game isn't limited by gender. "For us it's important that boys play the game too," she said. Educating all kids about menstruation, Gilsanz explains, regardless of body type, is a way to raise a generation of people who are comfortable and knowledgeable about periods.
Perhaps most importantly, though, Gilsanz wants people to know that the Period Game isn't just a learning tool. "It's actually fun," she said. "For us, it was super important that you would want to play it even as a game, aside from learning."