8 Asian actresses to consider for Disney's live-action 'Mulan'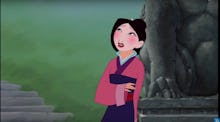 Mulan, the story based on the 6th century ballad "Hua Mulan," about a young girl who takes her father's place in the army, has long been reported to become one of Disney's next live action films. 
Since Disney's announcement in 2015, there haven't been any official announcements about the cast. However, on Monday, satire site Unreel News tweeted that Oscar-winning actress Jennifer Lawrence had been cast in the titular role. 
Clearly, not everyone on the internet knows that Unreel News is a fake news site, and as this tweet spread, people became angry. 
Sure, it was only a joke, but Hollywood has a history of casting white actors in Asian roles, so the fear was not totally unfounded. In the age of #OscarsSoWhite, so many Asian actresses, like Fresh Off the Boat star Constance Wu, have spoken up against Hollywood whitewashing. 
Thousands of people across the internet have made their voices heard, too. As of Tuesday, a petition to preempt Hollywood whitewashing of the film had garnered nearly 90,000 signatures. "Take a stand against whitewashing in our media," Natalie Molnar wrote. "Sign this petition to tell Disney that we demand to see them cast an Asian Mulan!"
In order to help the casting directors, Mic offers this unsolicited list of Asian actresses, most of whom have Chinese heritage, who would be great for the role of Mulan:
Katie Leung
Who better to bring her magic to the role of Mulan than the Harry Potter universe's very own Cho Chang? Though she took a break from film acting after the Potter series ended, the Chinese-Scottish actress began stage acting and returned to TV in the BBC drama One Child. 
Janel Parrish
Familiar to many as Pretty Little Liars' Mona, Parrish has the spunk and attitude to play the warrior. Aside from an extensive television resume, she also had a recording contract and contributed a song to the soundtrack for the movie Bratz!, in which she also starred. 
Jamie Chung 
She may have started out on MTV's The Real World, but Chung has amassed an impressive acting resume. Though of Korean descent, Chung already has experience playing the famous Chinese warrior. She played the role on ABC's Once Upon a Time for at least three seasons. 
Celina Jade
An actress, model and singer, Celina Jade has played a recurring role as "Shado" and then Shado's twin sister "Mei" on the CW show Arrow for the past three years. But before she was an actress, she was also a singer who released two EPs. If they plan to incorporate music into the live-action Mulan, Jade would be a great fit. 
Kristin Kreuk 
Kreuk, whose father is Dutch and whose mother is Chinese, is the star of the CW's Beauty and the Beast, which means she's already comfortable working on some pretty iconic Disney properties. The show has announced its series finale, so maybe she'll be donning some armor in the future.
Fan Bingbing
An actress who has starred in over 40 films in the past 15 years, Bingbing has also made waves in the United States with roles in Iron Man 3 and X-Men: Days of Future Past. 
Jessika Van
Perhaps big-name casting isn't the way to go, and Disney could benefit from casting someone who is a steady-working actress, but not yet a household name. An alumna of MTV's Awkward and recently featured in 2013's Paper Lotus, which won her the best actress award at the Los Angeles Movie Awards, this Taiwanese actress has a lot to bring to the role. 
Nikki SooHoo
If Disney wants to look for talent in house, they can consider Chinese-American actress Nikki SooHoo, who has starred in Disney Channel's Phil of the Future and The Suite Life of Zack and Cody. She's also starred in films like Stick It and appeared in The Lovely Bones.