Michelle Obama talks leaving the White House and her legacy as first lady on 'Ellen'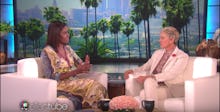 It's not every day that Michelle Obama graces a talk show. So when it does happen, you might as well make her a co-host for the day. That's what Ellen DeGeneres opted to do with the first lady's appearance on The Ellen DeGeneres Show Tuesday. 
After Obama's introduction — which may or may not have included her motorcade being towed outside the studio for illegally parking — she proceeded to dance through the audience with DeGeneres. 
Sitting down with DeGeneres, Obama talked about what she'll miss the most about the White House when her husband's second term is up. 
"It's really the people," she said. "The girls have grown up in the White House. I mean the staff that's there, we see them every day. These are people who have helped us raise our kids. They've loved us, they've taken care of us. The minute we leave, that's it. It's really the people that we'll miss most." 
On her daughters, Malia and Sasha, the first lady said she's been trying to let them soak up the final moments in the White House, because once they leave, that's it. However, she added that she's been incredibly proud of how the two have handled themselves in the national spotlight. 
Finally, Obama shared her thoughts about being FLOTUS for the past eight years — noting that she was hesitant at first. But she has nothing but praise for the people she's met across the country along the way. She told DeGeneres:
I wasn't the political spouse. I was very hesitant about this, but it's truly been an honor to serve, to travel this country, to meet so many great people. I have so much hope for this nation and I hope that everybody else does, too. We have some great young people. We've got great communities. I just wish everyone had the opportunity to travel the country like we have, because you would feel good every day about where we live. This is the best country on earth.
Watch the clips of Obama and DeGeneres below.