People are already lining up for the iPhone 7. Check out the photos.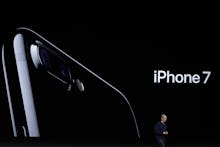 The iPhone 7 may not look all that different from its predecessors, but anticipation is running high nevertheless. Despite the early controversy, the promise of an iPhone 7 is drawing crowds of eager consumers ready to purchase Apple's latest offering. Some things will never change.
As early as Sept. 9 — a week before the iPhone 7 arrives — Apple fans were lining up outside of stores in New York City. Bloomberg intern Harvard Zhang spotted camped-out customers, tweeting that a "pro line-sitter" claimed it was a "$3,000-plus job."
The U.S. isn't the only country with Apple fever. On the other side of the world in Berlin, Reuters captured a photo of a tent city growing on Kurfüerstendamm Boulevard. 
Though the iPhone 7 angered some devotees with the removal of the universal 3.5-millimeter headphone jack, Apple has added some nifty improvements to this year's model: It's water-resistant, boasts a powerful new processor and the iPhone 7 Plus features a potent dual-lens camera.  
Perhaps these components are enough to draw out Apple fans once again? Most, however, will wait until the iPhone 7's official release date — Sept. 16.