iOS 10's new texting features are the biggest reason to update your iPhone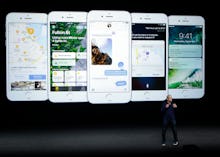 It's Tuesday, Sept. 13, which means the iOS 10 release date is here! The updated mobile operating system for the Apple iPhone will be available for download this afternoon. Sure, it may be a pain to get it — it can take your phone out of commission for hours and sometimes the download just flat-out fails — but the FOMO you'll feel when all your friends are playing with the new iOS 10 features will be severe.
Let's roll through some basic info you need to download iOS 10 before we talk about the biggest surprises. There are a few big reasons you'll want to upgrade as soon as possible.
How much is iOS 10? It's free. 
What devices is iOS 10 for? iPhone, iPad and iPod Touch — but you might want to avoid it if you have a phone older than the iPhone 6.
When is iOS 10 available? We don't know the exact minute, but Apple tends to release iOS updates midday, as Fortune notes. 
How do you download iOS 10? You'll probably get a notification. When you do, resist the urge to update right away. Wait a couple hours, then find Software Update in your phone's settings (under General). Trust us — the process will be a lot smoother this way. But before you do anything, back up your phone.
Why should I get iOS 10? iOS 10 is actually a pretty substantial upgrade. It'll change the way you receive notifications, browse the web, go to bed and wake up in the morning. But the texting features are the biggest reason to download iOS 10.
OK, tell me more about texting on iOS 10. Will do! Apparently, Apple saw what Facebook Messenger was doing with stickers and reactions and decided to get in on the action with some innovations of its own. The resulting product is more engaging, but it has a lot of ugly, hard-to-use features you'll never use.
Like this, um, image of text? 
And this weird "fireball" thing:
And stickers, which are a separate download:
But there are a few things you'll bring into your texting routine immediately. For example, improved camera and photo access within Messages:
And GIF search:
Big emojis (and predictive emojis!):
And handy reactions:
In addition, you can draw on photos, and make texts shake when they land on the screen, which is cool twice. That's basically it. 
Texting is just one of many new things you'll notice about iOS 10, but we bet it's the thing your friends will be talking about. When all that is over, you'll probably be most grateful for the new, pretty alarm tones and the fact that you can check your notifications just by lifting your phone. Progress!