'The Daily Show' sheds light on the Dakota Access Pipeline protest with brilliant segment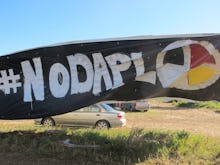 The Daily Show's Hasan Minhaj interviewed Native American protesters of the Dakota Access Pipeline on Sunday to understand why there is so much mistrust of the U.S. government. 
The answer was simple: History repeats itself.
The battle of sacred ground near the Standing Rock Sioux reservation is over a $3.8 billion pipeline that will carry over 570,000 barrels of crude oil throughout tribal lands from North Dakota to Illinois. In April, North Dakota witnessed one of the worst oil spills from a pipeline when the Keystone Pipeline's leak unleashed 16,800 gallons of crude oil, the Tech Times reported. In fact, from 2012 to 2013, North Dakota has seen over 300 cases of oil pipeline breaks. The Native American community has since been speaking out against the destruction of their sacred grounds, cultural traditions and access to safe drinking water.
But while President Obama stepped in to block the pipeline, protesters told Minhaj that they are still skeptical — and with good reason.
"Name one time where the American people have screwed over the indigenous people," Minhaj said. "Name one time."
"One time? Maybe when they colonized us," a female protester said before citing the Trail of Tears. The Trail of Tears was the forced migration of Native Americans under the Indian Removal Act of 1830 where they suffered and died from starvation and diseases.
Another protester explained that there's a laundry list of instances where the U.S. government has marginalized the Native American community — from the 1851 Fort Laramie Treaty to the 1944 Pick-Sloan Flood Control Act.
Minhaj tried to alleviate tension by getting protesters to sign a bunk "giant ass pipeline" treaty.
"Actually all they really did was they just cut and copied the iTunes user agreement because they knew you wouldn't read it," Minhaj says of the fake contract, which was printed on a large scroll.
Well, karma came around and nearly knocked Minhaj off the pony he was riding.
"Please tell [the pony] to stop," Minhaj said frantically. "That's the spirit of the evil white men before me."
You can watch the whole segment here.