Apple's iOS 10 is out now — but here's why you might not want to download it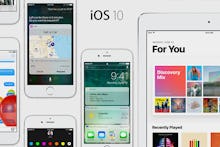 On Tuesday iOS 10 debuted with a slew of exciting new features: interactive messaging, efficiently synced apps and improved Siri capabilities, to name a few. But iPhone users with the iPhone 5 and iPhone 5c, which barely make the compatibility cut, should proceed with caution. The iOS could significantly hamper your iPhone's performance in the early stages of the update.
The main concern comes down to whether the iPhone 5 and iPhone 5c can handle the new software with their A6 processing chips. That's four generations behind the A10 chip that comes equipped with the iPhone 7. Even the iPhone 5s boasts an A7 chip, which should be able to handle the brunt of the operating system's demands, CNET reports. 
In addition, the iPhone 5 and 5c only contain 1 GB of RAM; the iPhone 6s and up has 2 GB, according to CNET. That, along with an outdated processor, could make running iOS 10 challenging for those older models.
Apple has obviously included the iPhone 5 and iPhone 5c in the update for a reason, but owners of those devices might want to wait a few more days until benchmark results are gathered. 
No matter what you decide, always remember to back up your device beforehand.