Donald Trump just announced his plan for paid maternity leave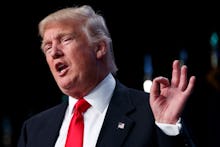 Tuesday morning, Donald Trump's campaign foreshadowed the Republican presidential nominee's plan to give women six weeks of paid parental leave. Currently, the Department of Labor guarantees up to 12 weeks of unpaid time off, though some states already allow for up to 16 weeks of parental leave. 
According to the Hill, an unnamed Trump aide told reporters that the proposal "creates a bipartisan solution to the issue of maternity leave."
In typical Trump fashion, if all goes as planned, the new policy would pay for itself. The GOP 
Trump is slated to give more details on his full childcare plan Tuesday night at a press conference in Pennsylvania alongside daughter Ivanka Trump, who's worked hard to rally female voters behind her father.
"Policies that allow women with children to thrive should not be novelties, they should be the norm," Ivanka Trump said during her speech at the Republican National Convention. "He will fight for equal pay, equal work — and I will fight for this right alongside of him."
To that end, this week the Trump campaign also rolled out the "Trump-Pence Women's Empowerment Tour," one of Trump's most explicit initiatives to court female voters. Trump, it seems, is trying to make good on his daughter's promises to women.
"It's motherhood, not gender, that is the greatest predictor in determining the income disparity in the workforce," a Trump aide said on Tuesday morning's call, according to the Hill.   
"We want to end the economic punishment for motherhood in the United States of America — we believe that our plan makes great strides at doing so."