'Fifty Shades Darker': Watch the tantalizing trailer for 'Fifty Shades of Grey' sequel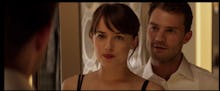 Christian Grey (Jamie Dornan) is back, and he's trying to win over Anastasia Steele (poor Dakota Johnson) in the first trailer for Fifty Shades Darker. The film, a follow-up to the poorly received Fifth Shades of Grey, has Grey and Steele seemingly connecting again after a kind-of-kinky encounter that ended the first film.
However, while the two try to build trust again, it seems Grey — who owns a huge company and is a millionaire, although we never see him do any actual work for said company — and his mysterious past will catch up to him and jeopardize the relationship.  
Fifty Shades Darker arrives in theaters Feb. 10 next year, which almost certainly means it will attract couples to screenings around Valentine's Day. 
Watch the trailer below.