Here's a fool-proof oven roasted chicken recipe that you won't be able to mess up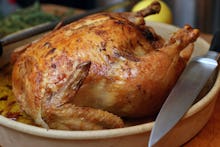 "The most classic, easy and delicious dinner you can make is roast chicken with gravy," Maria Rodale writes in her cookbook Scratch. 
The CEO of Rodale Inc. and organic farming advocate is, of course, correct. Once you master the roast chicken, opportunities are endless for side dishes and leftovers and memorable meals that are a cinch to prepare.
Never bought a whole chicken before? "Any certified organic chicken will do, supermarket brands included, or a chicken from a local farmer that you know raised it right," Rodale said. "The main thing to know is: The larger the chicken, the more time it will take to cook."
Here's how to make it — in five easy steps! 
Crispy Roast Chicken with Gravy
Serves 4
Ingredients:
1 whole chicken (about 4 pounds)
Gravy:
Method:
1. Preheat the oven to 375°F. 
The larger your chicken, the longer it will take to cook, but this temperature is correct for any size chicken. 
2. Place the chicken, breast-side up, in a roasting pan. 
Roast for one hour and 20 minutes, or until the chicken is cooked through and golden. You'll know the chicken is cooked when the juices run clear (you can pierce the chicken with a skewer or fork) and the legs feel loose. 
3. Tilt the chicken slightly to drain the juices into the roasting pan. 
Transfer the chicken from the pan to a serving plate. Set aside. 
4. Place the pan on the stovetop over high heat.
Bring the juices to a boil. 
5. Make the gravy! 
In a cup, whisk together the water and flour until smooth and combined. Add the flour mixture to the pan and stir with a spoon to scrape the bottom of the pan, releasing all the tasty roasted bits and flavor. Stir until thickened, about one minute. Add salt and pepper to taste. 
6. Carve the chicken and serve with the gravy. 
Rodale recommends serving the chicken with mashed potatoes or rice. If you have leftovers, make an open-faced chicken and gravy sandwich on toast the next day. 
7. Make the most of your scraps.
"Don't throw away the carcass!" Rodale said. "Put it in a big pot, cover it with water and cook for three hours and then you have bone broth"  Freeze that homemade bone broth for up to 10 months. Or use it immediately to make soup or add to countless recipes that call for stock. If you do make broth and still have lots of chicken left, definitely make chicken pot pie or to flavor hundreds of different dishes," Rodale suggested.  Yay, more food!