The Ohio Innocence Project just got a record-breaking $15 million donation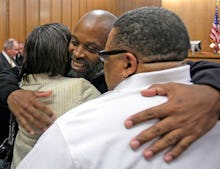 The Ohio Innocence Project, a program that works to free people who have been wrongfully convicted of crimes, just received a $15-million donation — the largest gift received by an innocence program in history. The money will allow the Innocence Project to continue its work "in perpetuity" — i.e.: forever.
The program, a part of the the University of Cincinnati College of Law, was founded in 2003 and to date has freed a total of 24 people who were wrongfully incarcerated, according to a statement from the University. 
One of the people freed by the work of the Ohio Innocence Project was Randy Jackson, who was incarcerated at 18 and spent 39 years on death row for a murder he didn't commit.
The $15-million donation was a gift from Ohio philanthropist Richard "Dick" Rosenthal. In a statement, Rosenthal said "the Ohio Innocence Project has a laudable mission: to free every innocent person in Ohio. I'm proud to help ensure its life-saving work continues now and forever ... I'm inspired daily by the students, faculty and staff who work tirelessly in the pursuit of justice."
There are innocence programs similar to the Ohio Innocence Project across the country. These programs sift through old cases and seek to overturn convictions and free people who are incarcerated for crimes they didn't commit; in many cases, they are able to discover improper convictions thanks to advancements in DNA analysis since the original trial.
"The Ohio Innocence Project has quickly become a national model for innocence organizations," Barry Scheck, the co-founder of the New York City-based Innocence Project, said in a statement. "Thank you to Dick Rosenthal for your incredible support of the innocent."