To understand Tupac's music career, we have to face his history with sexual violence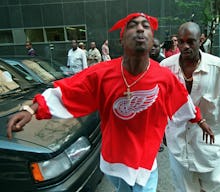 For Tupac Shakur, who died 20 years ago Tuesday, the months he spent incarcerated were both personally and professionally transformative. It was 1995, the year before his murder. He'd just survived being shot, his life was in a tailspin and the only way out seemed to be death or total isolation.
He found the latter in an unexpected place: the Clinton Correctional Facility, a hellish maximum-security prison in upstate New York.
"In the very beginning, prison granted Tupac a sort of grace, extricating him from the manic, overcharged existence he had created for himself," journalist Connie Bruck wrote in The New Yorker. "Outside, he drank heavily and smoked marijuana constantly. Now his mind was clear."
To fans and critics alike, the duress generated by the rapper's impending prison sentence and the eight months he spent behind bars birthed what many consider his musical masterpieces: Me Against the World (1995), the epic that introduced a more reflective and confessional Tupac, recorded just before he was locked up; and All Eyez on Me (1996), the sprawling, ambitious follow-up album that cemented his legacy. The "gift" of isolation, in other words, granted him an artistic clarity he hadn't known before.
"[Tupac] was liberated from the demands of his music" by prison, Bruck wrote. "His gangsta-rapping had been a pose, he said. He had been required to maintain the pose and he did not regret doing so, but it was a pose nonetheless, and one he was abdicating."
The "pose" was a recurring theme in Tupac's life and work. Relinquishing parts of his outlandishly hard-edged persona not only revolutionized his art, but paved the way for the most storied run of his musical career. How devastating, then, that the fulcrum of this resurgence was the violated body of a young black woman. Her name was Ayanna Jackson. She was 19 years old. And the circumstances that sent Tupac to prison for her sexual abuse remain an overlooked part of his legacy.
The seeds of the incident appear to have been planted long before it actually took place. More than most rappers of his stature, Tupac spent much of his early career battling accusations of inauthenticity. A sensitive, doe-eyed art student from Baltimore, he'd moved to the West Coast in the early 1990s to escape a tumultuous home life.
"[My] mother" — the late former-Black Panther Afeni Shakur — "was pregnant, on dope, dope crack," Tupac said in a 1995 deposition, according to the New Yorker. "We never could pay the rent ... I didn't want to be there anymore."
It was not a sustainable situation for the 16-year-old. Rather than stay with Afeni in Maryland, Tupac left to spend the rest of his young adulthood with a family friend north of San Francisco, in hardscrabble Marin City. There, the local kids and gangsters bullied him mercilessly.
"I didn't fit in. I was the outsider," Tupac said, according to the New Yorker. "I was the target for ... the street gangs. They used to jump me, things like that."
In 1992, things started to look up. Tupac moved to Los Angeles to pursue a career in entertainment. But by 1993, his social life revolved largely around the local Crips and Bloods gangs, whose reign of violence in the streets had infiltrated Southern California's music scene. His behavior started to reflect his environment. Tupac bought a gun and began practicing at shooting ranges. He got into multiple fights, racking up a long sheet of criminal and civil suits.
At the time, his actions were attributed by observers to a need to prove himself to his peers.
"People would test him," Man Man, Tupac's friend and road manager, told the New Yorker. "And Pac felt, I have to prove that I'm hard."
In this context, Tupac's time in prison can be seen as a necessary break. The space he got to reflect — which lasted from February to October 1995 — seemed central to his artistic turnaround, even when it was undercut daily by the whiplash effect of incarceration's horrors.
All of this contributed to the making of an icon. Today, Tupac is considered one of the greatest rappers of all time, a savant whose untimely death cut short a career marked by arresting candor, relentless advocacy for the lives of young black men and an uncommon attentiveness to the plight of black women.
At the same time, his real-life treatment of these women leaves a gaping hole in his legacy. When asked by Vibe magazine journalist Kevin Powell how he felt about women during his trial in 1995, Tupac answered chillingly:
I hated black women. I felt like I put my life on the line. At the time I made "Keep Ya Head Up," nobody had no songs about black women. ... It was real, and they didn't defend it.
What crime did Tupac commit that he believed demanded black women's support? The details have been disputed. In his version, it started when 19-year-old Ayanna Jackson — with whom he'd had a previous sexual relationship — agreed to rendezvous with him at a hotel in New York City one day in November 1993.
Tupac was with three of his male associates at the time. He and Jackson reportedly had sex in his room, during which two other men came in and started touching her. Tupac claimed he left her alone with them. He maintained he didn't know what happened after they entered the room, but that Jackson emerged later, distraught and in tears, and called hotel security.
In Jackson's version, it started the same way, but Tupac was in the bedroom the whole time. She said she was forced to perform oral sex on him while the other men touched her, and then was forced to do the same on another of Tupac's associates, while Tupac held her down.
At the end of it all, Tupac and two of the other men with him were arrested and charged with sexual abuse. Tupac was eventually convicted for "forcibly touching Ayanna Jackson's buttocks" — a "compromise verdict" where prosecutors could not secure a heftier conviction, according to the New Yorker — and sentenced to prison in February 1995.
The day of his sentencing, a crowd of the same women Tupac would later claim did not support him showed up at the courthouse, weeping. One of them managed to kiss him on the cheek, according to the New York Times. A court officer promptly ordered her back to her seat.
Two decades after the fact, snapshots like these give us telling insight into the cruel balance female fans are expected to strike when it comes to famous men who behave badly. For black women especially, the pressure to choose between racial and gender loyalties is especially acute: When black men are abusive, black women are expected to keep quiet about it. We need to present a united front, they are told. Racial advancement hinges on us standing together — even when that stand proves to be one-sided, with women supporting men on one end, and men standing by in silence as women are violated on the other.
Tupac proved indignant when this balance came under attack during his trial. He'd written "Keep Ya Head Up," after all.
"I felt like it should have been women all over the country talking about, 'Tupac couldn't have did that,'" Tupac told Vibe's Kevin Powell. "And people was actually asking me, 'Did you do it?'"
We still see this dynamic in plenty of cases today. The most prominent example is Nate Parker, the actor and director whose upcoming film, The Birth of a Nation, tells the story of Nat Turner's 1831 slave revolt. Parker stood trial in 1999 for allegedly raping a woman who said she was unconscious. He was acquitted, but his friend and Birth of a Nation writing partner, Jean McGianni Celestin, was convicted of sexual assault. (His conviction was later overturned on appeal.)
Both men have gone on to some degree of professional success — though audiences are now questioning whether they can, in good conscience, support a film made by two men who many feel have shown cavalier disregard for women at best, and sexual violence toward them at worst.
As for the victim, she can no longer speak on the matter: She died by suicide in 2012.
"It's hard," her brother, Jonny, told Variety in a recent interview, "seeing my sister's life slowly crumble while these men are by all accounts relatively successful and thriving."
Without Ayanna Jackson, there likely is no prison time. Without that time in prison, those albums might not exist.
In both Parker's and Tupac's cases, professional esteem came despite their charges. With Tupac, however, the two are inextricable: The twin apexes of his creative career — Me Against the World and All Eyez on Me — emerged directly from the artistic reinvention his conviction and prison sentence afforded him.
Without Ayanna Jackson, there likely is no prison time. Without that time in prison, those albums might not exist.
In the end, Tupac's path doesn't seem to have intersected with Jackson's after the trial. Less than a year after leaving prison, he was shot four times on the Las Vegas Strip, and died from his wounds in a hospital a few days later. The rest is hip-hop history. Tupac is now universally regarded as an artistic deity, an icon whose likeness graces tribute murals across the globe. For the rest of his life, the rapper maintained he was "innocent of the charge they gave" him, stemming from the incident with Jackson, but "not innocent in terms of the way I was acting."
"I'm just as guilty for not doing nothing as I am for doing things," Tupac said, according to the New Yorker, reflecting on his failure to intervene on her behalf. "I know I feel ashamed — because I wanted to be accepted and because I didn't want no harm done to me, I didn't say nothing.'"
Whether Tupac was guilty of merely not protecting Jackson for fear of what his friends might think, or of actively violating her, the fact remains that history has treated her body as collateral to his success. In the 20 years since he died, Jackson's abuse has been a footnote in his story, and little more. This is typical of our male heroes. Their triumph too often trumps their abysmal failures, and women are the ones left holding the bag.
One person who won't forget is Ayanna Jackson. In 2012, the hip-hop publication the Source tracked down the then-40-year-old and asked her to reflect on the incident that defined her late teens. When asked whether her sexual assault has stayed with her for the two decades since it occurred, she answered, simply, "It never goes away."
June 16, 2017, 12:23 p.m.: This story has been updated.