Trump vs. Clinton presidential polls: Here's where the candidates stand right now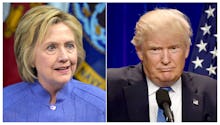 With just two months to go before the November voting day, there's still no clear frontrunner in this election season.
Depending on which poll you look at, Republican nominee Donald Trump is ahead by three percentage points. Or Democrat Hillary Clinton is ahead by five points. Another poll shows her ahead by just 2%.
So where exactly do the candidates stand?
According to the latest NBC News/Survey Monkey poll, Clinton leads Trump by four points, 48% to 44%. And when third-party candidates, Libertarian Gary Johnson and Green Party candidate Jill Stein, are added to the mix, Clinton leads Trump by just two percentage points.
The poll was conducted online from Sept. 5 to Sept. 11 among 16,220 registered voters. It has a margin of error of plus or minus 1.1 percentage points.
Another national poll, released on Sept. 10, gives Clinton a four-point lead over Trump. According to a Washington Post-ABC News poll, she leads the New York real estate mogul 46% to 41%. That poll was conducted from Sept. 5 through Sept. 8 of 1,002 adults "reached by cellular and landline phones" of both registered and likely voters. It has a margin of error of 3.5%.
Clinton holds a smaller lead in a recent Economist/YouGov poll. That poll givers her a 40% to 38% edge over Trump, and factored in Johnson (7%) and Stein (5%). The poll was conducted from Sept. 4 through Sept. 6 among 1,300 people. It has a margin of error 4.4%.
What should voters make of these polls?
According to the Pew Research Center, while polls sometimes correctly predict the winner of an election, "the good track record of final pre-election polls does not mean that all pre-election polls are reliable. Polls conducted early in an election season should be taken as snapshots in time, and obviously cannot capture the impact of the campaign and events to come."
Both Trump and Clinton have weeks of campaigning left, and will square off during the first presidential debate on Sept. 26, so there's plenty of time for either candidate to pull ahead, or fall behind.
If the polls are confusing, experts suggest looking at the average of the polls. RealClearPolitics puts Clinton ahead by 2.4%. FiveThirtyEight puts Clinton ahead 42.3% to Trump's 38.7%.