Barack Obama campaigns for Hillary Clinton in Philadelphia, showing why he's her top asset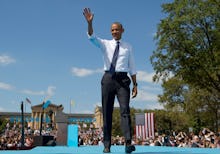 PHILADELPHIA — President Barack Obama appeared here Tuesday on his first jaunt on the campaign trail in nearly two months, seizing the opportunity to take a victory lap on his administration's economic record and touting Hillary Clinton as the inheritor of his legacy.
"I believe there has never been a man or a woman more qualified than Hillary Clinton to serve as our president," Obama said.
Speaking before a young, diverse crowd of an estimated 6,000 people assembled in front of the Philadelphia Art Museum, Obama struck many of the same themes as his speech to the Democratic National Convention here in July. He cast the choice between Clinton and Donald Trump as "more fundamental" than previous elections.
Mocking Republican nominee Donald Trump as a phony champion of the working class and a fringe figure who embraces foreign dictators and domestic extremists, Obama's performance — at times caustic, at others impassioned — illustrated why, with his poll numbers rising even as Clinton's falter, he's one of her biggest assets heading into the fall election.
That election, Obama said, "is a choice about the very meaning of America."
Obama trumpeted new numbers from the U.S. Census Bureau showing household incomes shot up 5.2% in 2015 to an average of about $56,000, the largest increase in nearly 50 years.
"More Americans are working. More have health insurance. Incomes are rising. Poverty is falling. And gas is $2 a gallon," he said, after someone in the crowd shouted out the current gas price. "Thank you for reminding me that. I didn't even remember. Thanks, Obama!"
Needling Trump over his comments about Vladimir Putin, Obama ridiculed the GOP candidate's praise of Putin's high approval rating, noting that longtime Iraqi dictator Saddam Hussein also boasted sky-high poll ratings.
Obama also took Trump to task over recent reports over the Trump Foundation, saying that while Clinton's controversial family foundation has "saved millions of lives," Trump's has used funds to purchase items like a self-portrait of the real estate tycoon.
Echoing the Clinton campaign's attacks on Trump's temperament, Obama said, "Anybody can pop off. Anybody can fire off a tweet. Everyone's a critic."
And while Trump — not unlike Obama did eight years ago — offers voters a "fresh face," the president conceded, voters should prize her "steady and true" leadership.
Obama was riding high Tuesday, and for good reason. A recent Washington Post/ABC News poll showed his approval rating at 58%, the highest it has been in years. The Clinton campaign is lagging in support among the young and also minority voters who made up a large part of his coalition, and they hope Obama can inspire them to turn out on Election Day. His deployment to Philadelphia, where those voters are plentiful, is part of that effort.
"The young people who are here, where all you've been seeing is just the nonsense that's been on TV, you maybe don't remember all the work that she has had to do, and all that she has overcome, and all the good that has come from her efforts," Obama said. "But you need to understand this. If you care about our democracy, you've gotta be with her.
"You can't stay home because she's been around for a long time. Well, you know what? This is not reality TV. Democracy is not reality TV. You don't tweet in your vote."
But some of Obama's most ardent fans aren't sold on Clinton, which underscores why the Clinton campaign sees him as one of its most valuable surrogates.
Iqra Shafique, a 26-year-old financial analyst from Philadelphia, said she had come to see the president and didn't consider herself a Clinton supporter.
"I don't think I'm a supporter right now," she said. "I'm more here to see Obama."
For Rachael Wright, a 19-year-old sophomore at nearby Drexel University, this election will be the first time she casts a vote. She said she was an enthusiastic supporter of Sen. Bernie Sanders during the Democratic primary but was eager to support Clinton in November. Obama's appearance further cemented her support.
"I like how he got straight to the point about how Trump is not prepared for the job, and Hillary is so much more prepared," Wright said. "There's really no comparison between the two of them."
Wright is from New Jersey, but is registered to vote in Pennsylvania. The Clinton campaign is making a push to register young voters on college campuses across the state ahead of the Oct. 11 registration deadline. Wright said most of her friends are voting for Clinton.
Asked if she thought Clinton would defeat Trump, Wright was optimistic but expressed the kind of anxiety that many Democrats are feeling as the polls tighten.
"It's a really close race so I'm a little nervous, but I think when people get to the polls they'll realize they can't just vote for an inexperienced guy who doesn't really fix problems and just stands around complaining," she explained. "I think that they'll come around and vote Hillary."
The presidential visit comes at a crucial moment in the campaign, with Clinton sidelined by her pneumonia diagnosis and polls tightening in battleground states. Obama's rally was part of the Clinton campaign's attempts to shore up support in Pennsylvania, where polls show Clinton's lead has dipped since August. High-profile surrogates have canvassed the state in recent weeks, including former President Bill Clinton, their daughter Chelsea Clinton and Massachusetts Sen. Elizabeth Warren.
The Keystone State is also home to one of this year's marquee Senate races, pitting Republican incumbent Pat Toomey against Democratic challenger Katie McGinty. During his speech, Obama sought to rally support Tuesday for McGinty, saying a "Trump-Toomey economy" would leave workers in the dust.
With his policy legacy hinging on the outcome of the November vote, Obama closed his speech by imploring his supporters to not sit on the sidelines.
"I need you to work as hard for Hillary as you did for me."