Fall fashion shopping hacks: Dress like the 1% on a 99%-er's budget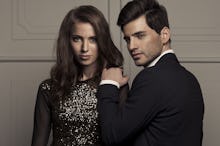 In the mood to treat yourself?
You wouldn't be alone: 64% of millennials — up from 37% last year — say they plan on buying themselves a gift during the upcoming winter shopping season, according to a Rubicon Project consumer survey.
And it's not just the young people who are thirsting: Top designer clothing labels want to tap that pent-up energy, most recently with fashion week pop-up shops that let shoppers buy the new threads they've just seen — literally hot off the runway. Just this week, Burberry launched a Facebook messenger bot to coincide with London Fashion Week, allowing people to buy designs they've literally just seen on models.
Too bad runway pieces typically come with obscene price tags.
Yet hope is not lost if you're lusting after a new autumn wardrobe: Here are seven ways to get this season's sweetest duds — without destroying your credit.
Pay retail price now, then capture the sale.
Make the effort to always keep receipts — they can pay dividends.
During the return period (30 days is typical), watch the pricing of the item you purchased like a hawk. Digital price trackers can help.
If the piece goes on sale before the end of the return period, simply go return it and repurchase at the lower price.
Making price adjustments without the need for a "return" is official store policy in some cases — but if you run into pushback (some companies have tighter time windows for adjustments than returns), you can always make the return, go around the block for coffee, and then just come back and buy the item again.
All's fair! (And being extra sweet and friendly to salespeople never hurts.)
An example: Say you're lusting after a trendy, loose fitting top, like this $1,075 Givenchy button-down (marked down to $430, in case that tips the balance for you) — or a comparable $88 Banana Republic version.
If you buy the BR shirt, then see — lo-and-behold — it's been knocked down to $39.99, you could end up getting more than half your money back with a price adjustment.
Find hidden gems on Etsy.
Gone are the days when Etsy was known mostly for knitted, bespoke tea cozies in the shape of woodland creatures.
The site is starting to earn a name for itself in the indie fashion design world, with cool, hand-crafted accessories that will make your friends ask: Where did you get that?
We're talking sexy, suede handbags or sexy, silk cravats at ultra-reasonable prices. There's even a rad selection of bomber jackets, which are all the rage these days: You can find jackets for about $30 that are pretty freakin' similar to those $1,095 ones sold by Elyse Walker.  
Another benefit of buying directly from designers on Etsy?
Your purchases are more financially efficient, cutting out middlemen and distributors, which cuts down on the overhead costs that trickle to you when you buy from traditional retailers.
Fall in love with ethical fast fashion.
Fast fashion is wallet-friendly, but fast fashion labels are known to rely on sweat-shop labor and commit human rights violations to churn out designer knockoffs cheaply.
There's a better way. 
Krochet Kids is a non-profit with a business model designed to maximize social impact: The brand employs economically and socially vulnerable female workers in underdeveloped countries with high rates of poverty.
The company "empowers their artisans in Uganda and Peru not only through fair wages, but also through education and mentoring programs," the Good Trade explains.
Check out their inventory, some of which evokes Yeezy's line of casual wear: A basic Yeezy sweater runs at around $500, while Krochet Kids' version is $50.
Fair Trade Winds is a clothing company with a similar mission — minimizing environmental damage and ensuring workers earn a fair (and gender-equal) wage.
Try cracking the price tag code.  
Some stores, it's been discovered, price their products in a way that can indicate to shoppers whether prices are set to drop — at least if you can figure out the code.
A blogger for Rather-Be-Shopping.com says a JCPenney store manager broke down the department store's code as follows: If a price tag ends in .97, "JCPenney now owns it and can reprice it to what we'd like before losing out on money and sending it to liquidation. The [price] is lowered every two weeks to half of the current ticket price. Items will go as low as $2.97 before they're shipped out of the store."
You've got lots of options, since many stores use similar pricing tricks — but there's always the risk that they could phase out certain strategies once they see shoppers have caught on.
Even if you find yourself too late to (or confused by) the code game, many big retail chains have wallet-friendly prices for fancy-looking fashion to begin with: JCPenney, for example, is selling a faux-suede, draped-front jacket for $49.99 — that looks pretty damn similar to a Polo Ralph Lauren piece priced at nearly $1,000.
Get sample sale alerts.
Sign up for services like TopButton.com, which sends you emails with deets on designer sample sales in your area.  
"A lot of times people think that a sample sale is whatever stores or designer labels don't want, but that's not true," Dianna Feldman, cofounder of TopButton.com, told Mic.
"Sometimes [the merchandise] is what they show to the buyers, and they've already been taken into account in the cost of production, so they're essentially free for these companies. That means it's better for them to liquidate and get 10% for them than just destroy them," she added. 
Getting more than half off designer threads? Kind of a no-brainer.
Bandier yoga pants or sweatshirts, for example, can set you back more than $100. But a recent Bandier sample sale in New York City was selling its inventory for up to 80% off. 
Keep an eye out for blogs and email services that offer information on sample sales near you.
Shop outlet malls — or Rent the Runway's clearance section.
If you are selective, hitting up shops at your closest outlet mall can really pay off — even if it's once every year. 
Some outlet malls are especially dedicated to high fashion and designer labels. Jeremys in Berkeley, California, for example, has reportedly sold Lanvin and Céline bags with as much as an 80% discount.
If you just can't bear the thought of battling crowds?
Do the online equivalent of outlet shopping: Creep on clearance sales on Rent the Runway for high-end fashion pieces the company is looking to get rid of.
You can snag a $280 Lilly Pulitzer dress for only $50, for example.
Buy things out of season. 
Need a cool summer dress? Or perhaps a new bikini? Buy it when the autumnal chill and rustling leaves have come rolling into town; you'll thank yourself. 
Shops are often desperate to get rid of leftover inventory: Right now, Nordstrom is offloading swimwear at deep discounts, with suits selling for 40% off or more.
Money & Career CheatSheet explains why this strategy is so effective:
"Smart shoppers have a secret: buying in the off-season. Rather than heading to the stores at the same time as everyone else, they shop for items at non-peak times, when retailers are more likely to unload old merchandise and there's not a lot of demand to drive up prices. By shopping for winter clothes in March and summer sports equipment in August, these savvy consumers can save big."
Need some warm, winter scarves? Wait till it's humid outside and go in for the kill. Cashmere will likely never be cheaper.
Bonus tip: Make like Macklemore and pop in to a thrift shop: You just might hit the jackpot on lightly used designer stuff and cool accessories.
Tokio 7, for instance, is a high-end consignment store that sells fancy fashion pieces with minor defects, or ones that have been "mildly used," as New York Magazine explains in its rave review of the store.