This North Carolina Little Caesars told a woman they only hire men to work in the kitchen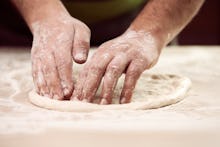 There's a stubbornly sexist mantra that insists a woman's place is in the kitchen. But when 24-year-old Haley McKinney tried to apply for a job as a cook at a Little Caesars in Mt. Airy, North Carolina, on Monday, a manager told her there were no women allowed in the pizza chain's kitchens at all — cooks could only be men.
In an email, McKinney said the manager explained the rule served a dual purpose: to prevent "flirting" and to make sure every kitchen employee could handle the job's "heavy lifting" requirements. 
"I was completely shocked, to be honest, and I asked him if that wasn't discriminatory," McKinney said. "He said it wasn't his policy, but company policy, and there was nothing he could do about it."
McKinney said she left and called Little Caesar's corporate office and talked to a representative who initially told her he couldn't provide her with information regarding the supposed "company policy" the local manager had mentioned. He then forwarded her to the fundraising department, another dead end. 
Finally, after what McKinney estimated to be about an hour's time, she spoke with a representative who told her they would file a complaint and investigate the privately owned North Carolina location. Of course, gender discrimination, they said, wasn't a company policy.
A manager at the Mt. Airy franchise said, "No comment." Little Caesars company spokeswoman Tina Orozco said in a Tuesday phone call that Little Caesars is looking into the incident. 
On Wednesday, Orozco shared the following statement with Mic:
The statements made by an individual at one of our independently owned franchise locations were inappropriate, untrue, and in no way align with the company's long standing commitment to diversity and inclusion, which is reflected in our crew at thousands of stores nationwide. The employee has been terminated and the franchisee is reaching out to the applicant to express her regret and embarrassment and also discuss employment opportunities.
McKinney also shared her experience on Twitter (where she goes by "Mara") and Reddit.
"[The incident] exposes this archaic idea that women are physically weaker in general, and that we'll distract the male workers with 'flirting' and cause disruptions in the workplace — that we aren't as professional or focused on the job as men in general," she said. 
It's the result of a blatant double standard, she said, that punishes women and favors men. While men flirt too, McKinney pointed out, "they aren't being rejected for the position outright."
As she continues her job search, she said she hopes something productive comes out of her experience.
"I'm not sure if anything will come of it, but I hope something can be done."
Sept. 14, 2016, 12:35 p.m. Eastern: This story has been updated.