If invisible ink on iOS 10 isn't working, there's an easy fix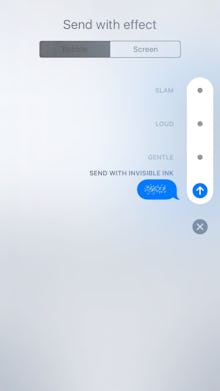 If you can't use iOS 10's invisible ink feature, you're not alone. Apple unveiled its new operating system on Tuesday, and the highly anticipated invisible ink feature wasn't working for some users. 
Invisible ink lets you send a "secret" text message or photo. The feature turns your message into a bunch of swirling dots — the photo or text only becomes visible if you or the recipient swipe a finger over it. After a few moments, the image or text is obscured again. People are amped about this feature for obvious reasons, like sexting.
Alas, some people are being denied this sexy treat. But don't worry, there's an easy fix. 
Why you don't have invisible ink: It's probably just a problem with your settings. You likely have "reduce motion" turned on. 
All you have to do is go into your settings, hit "general," then "accessibility" and go to "reduce motion." If reduce motion is on, turn it off. It's as simple as that.