Here's what you need to know before you book that flight to Cuba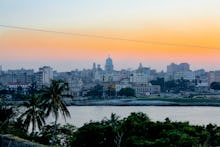 On August 31, JetBlue Airlines flew from Fort Lauderdale, Florida, to Santa Clara, Cuba, making history as the first commercial flight to land in the island nation 90 miles south of the U.S. since the 1960s.
The flight was more than 50 years in the making. In the two years since President Obama announced the restoration of diplomatic relations with the Communist country, Americans are putting Cuba at the top of their travel wish lists. In 2015 alone, about 161,000 Americans visited the country, a 77% increase from the year before, according to USA Today.
Now that you can travel legally to Cuba without fear of heavy fines or prison, there's some things you need to know before you book that plane ticket.
1. About that embargo
Although bilateral relations between U.S. and Cuba have begun to normalize in the year since the countries reopened their respective embassies, the U.S.-imposed embargo remains in effect. The Treasury Department's Office of Foreign Assets Control (OFAC) has designated 12 categories permitting Americans, and those subject to U.S. jurisdiction, to travel to the country — and no, "spring break" isn't one of them.
The categories include visiting relatives, education programs, professional research, journalism, religious activities, participation in performance arts, and sports competitions. They're more about cultural, education and professional exchange rather than commercial tourism. While you'll still need a visa, OFAC does not require you to submit a written request for a license to travel as, say, a scholar; however, you are expected to be able to document how you've spent your time there.
This isn't to say you can't do touristy, vacation-y things while you're there. Just don't look at Cuba as a hip, unspoiled Cancun awaiting your next beach vacation.
2. Book a homestay
One of the best ways to truly experience another culture is to meet and stay with people who actually live there. Cuba doesn't have the abundance of cheap hostels that Europe has, but Cubans have been opening up their homes to travelers.
These Cuban homes, or casas particulares, are abbreviated homestays. The rates are reasonable, ranging from about $20- to $30-a-day. Some of the hosts cook meals for their visitors. For Cubans who don't make much outside of their government job, these homestays are a great way for them to make extra money.
There are now 8,000 Cuban homes registered with Airbnb now, according to an Airbnb spokesperson, who said that 13,000 U.S. travelers used the service since it began operating in Cuba in April 2015.
"For the Cuban people, it is difficult to travel, so this is our way to meet people from all over the world and learn about different cultures," a young Cuban Airbnb host told Mic's Jake Horowitz back in March. "It's about more than money. It's about cultural exchange."
3. Off the grid
If you're used to technology enhancing and enabling your travel experience, you might need a masterclass in map-folding. Visiting Cuba is a chance to take a vacation from your devices and the exhaustion of always-on connectivity. Although U.S. telecoms, including Sprint, Verizon, T-Mobile and AT&T, have roaming agreements with Cuba's ETECSA, hourly Wi-Fi access is limited to hotels, internet cafes (or telepuntos) and a growing number of hotspots.
That means you'll need paper: a guidebook, a map, a Spanish/English phrasebook, particularly when you travel outside Havana, as you should. Make sure to print everything — visa, itineraries, directions, etc. — and enjoy your digital detox!
4. Cash money
Speaking of paper, you need to know that Cuba's economy is largely cash driven. Credit and debit cards won't work in most places, so make sure to convert money ahead of time or bring plenty of cash. ATMs are few and far between and often turn up empty, so calculating enough cash for your entire trip is essential.
There are two currency systems: Cuban pesos for locals and convertible Cuban pesos, or CUCs, for tourists, which operate largely with sterling or euros. Because of the embargo, dollars are more expensive to convert than other currencies, so don't make a fuss if you didn't do your homework.
5. It's complicated
Now that Cuba has opened up to us, it's time to stop patronizing the country as the "land that time forgot," where classic tail-finned cars cruise the beautiful ruins of Old Havana to the strains of the Buena Vista Social Club. Sure, it's natural to romanticize the places you dream of visiting, particularly when they've been off-limits for so long. But now that you have a chance to go there, you need to look a little deeper.
Like any place, Cuba has a rich culture and a complicated history. We may know about Cuban salsa, but the Ballet Nacional de Cuba is one of the most prestigious ballet companies in the world. Havana has more than 250 museums focused on history, arts, science, cars, religion and weaponry; more than 100 art galleries, and hundreds of movie houses across the island. And the island's music reflects a mosaic of traditions that belie its colonial history — and its role in the slave trade.
That mix of origins and ethnicities — Amerindian Taino, Spanish, African, French, Asian and English — has played out in a history of racism and discrimination that Cuba continues to grapple with. (Sound familiar?)
So take those 12 travel categories to heart and think about a trip to Cuba as an educational opportunity, the chance to be a cultural ambassador and respectfully explore a close neighbor that most Americans know too little about.