British PM Theresa May is being told how to dress — in the name of combating sexism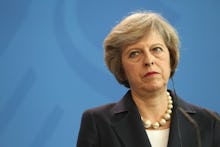 Just two months in office and the sexist criticism is already pouring in for British Prime Minister Theresa May — for her choice of footwear. And it's coming from a surprising place.
According to union delegate Penny Robinson, the politician's habit of wearing heels is setting women back in their pursuit of equal rights. At the Trades Union Congress conference in Brighton, England, on Wednesday, Robinson removed her own high heels before calling on the PM to do the same. The GMB trade union delegate spoke out against workplaces that mandate women wear uncomfortable shoes as part of a dress code. 
But in her supposed efforts to combat sexism, Robinson ended up falling right into the trap herself.
"When Theresa May became Conservative leader and prime minister, I expected to read analysis of her policies, her priorities and her approach to Brexit," Robinson said in her address, according to Sky News. "Instead, most of the newspapers concentrated on her love of shoes and extensive shoe collection."
Indeed, British media have trained an all-too-close eye on the PM's choice of footwear — but that's the choice of various media types who publish tabloids, not May. Still, Robinson seemed to suggest that May's sartorial choices attract the sexist coverage and that the treatment the PM has received is therefore her fault.
"Our new prime minister might be well-known for her leopard-print kitten heels, her leather boots and her Jimmy Choos, but if she really wants to advance the cause for women in the workplace, there are two things she can do," Robinson continued. "Make a point of wearing pumps, flats and comfortable shoes for Cabinet, for PMQs and for meeting all those EU leaders." 
May should, she added, make sure the "sensible shoes" she chooses are not designer, because in Robinson's esteem, wearing designer shoes is a thing women do out of necessity, "to meet men's expectations."
A search of recent photos of the PM doesn't turn up any instances of her wobbling in clunky platforms or spindly stilettos. Generally, she's wearing low kitten heels, which are about as sensible as heels come. As a woman capable of running a country, one can logically conclude, she's capable of choosing her own wardrobe. But heels as part of a professional ensemble are particularly contentious in Britain right now.
In May, 27-year-old Nicola Thorp showed up to work in a pair of flats and was told to put on heels; when she refused, she was sent home. Heels themselves are not part of some national workplace uniform for women, but British law does require men and women to show up dressed with "an equivalent level of smartness," according to BBC News Magazine. 
According to the Guardian, the Trades Union Congress was voting on a motion that explicitly stated heels shouldn't be a requirement for people dressing professionally, a direct result of Thorp's case. 
But it all seems like a lot of projection onto May. What's at issue here is forcing a woman into heels — telling her she can't wear them is just as problematic as telling her she must. 
As general secretary of the TUC Frances O'Grady put it back in May, "High heels should be a choice, not a requirement."