Here's what you need to know about potential vice president Tim Kaine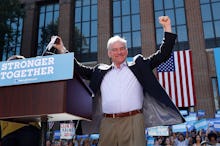 If elected as Hillary Clinton's vice president this November, Tim Kaine would be just a heartbeat away from the Oval Office.
He's been on the campaign trail since being chosen as Clinton's running mate back in July. "Senator Tim Kaine is everything Donald Trump and Mike Pence are not. He is qualified to step into this job and lead on Day 1. And he is a progressive who likes to get things done," Clinton said in her announcement.
With Clinton taking a break from campaigning while recovering from pneumonia, Kaine has tried to fill in the gap. At a rally in Dayton, Ohio, on Sept. 12, he said he was amazed at her stamina.
"I know you are thinking about her and I am too but I will tell you this. I have just been on the campaign since July 22. Hillary Clinton has been on the campaign trail for 18 months. Her energy staggers me. I have a hard time keeping up with her," he said.
_____________________________________________
Read more: 
Kaine is a well-known politician in Virginia, having served as a city council member and then mayor of Richmond. In 2001, he was elected lieutenant governor, then as governor in 2005. He took over the reins of the Democratic National Committee from Howard Dean in 2009. And then he was elected the U.S. Senate in 2012, filling former Sen. Jim Webb's seat.
But on the national level, he wasn't very well known until Clinton announced that she wanted him on the ticket with her.
The 58-year-old politician is the father of three children.
He was born in St. Paul, Minn., and was raised just outside of Kansas City. His father owned an iron-working shop and his mother was a home economics teacher.
He's fluent in Spanish, a language he learned while volunteering in Honduras with Jesuit missionaries.
And he plays the harmonica.
On the issues, Kaine is seen as a safe choice for Clinton: He supports free trade, and has backed the North American Free Trade Agreement and the Trans-Pacific Partnership deal, but has since backed away from TPP, something that Clinton opposes. Kaine says he owns a gun but also supports gun control laws. He has said the mass shooting at Virginia Tech in 2007, when he was governor, was the "worst day" of his life. 
Kaine also supports same-sex marriage. As a Catholic, Kaine says he is personally against abortion, but vows not to try to repeal or restrict the law. He is also morally against the death penalty, but has said he will uphold the law.
Clinton and Kaine, who serves on the Senate Foreign Relations and Armed Services committee, hold similar positions on many foreign policy issues. Kaine is well versed in military and veterans issues, as Virginia is home to a large number of both communities. Kaine is in support of overhauling the nation's immigration system and supports a path to citizenship for illegal immigrants. He also supports closing the loophole for taxes for the wealthy.   
This is not the first election that Kaine was vetted as a vice presidential pick. In 2008, President Obama considered him as his running mate, but ultimately chose Sen. Joe Biden.