The Trump Foundation is facing an official inquiry by the state of New York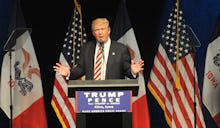 How shady is the Trump Foundation, Republican presidential nominee Donald Trump's signature charity?
Shady enough that the state of New York has launched an official inquiry into possible "impropriety" in its activities this summer, months before a searing Washington Post expose accusing the nonprofit of mishandling funds, CNN reported on Tuesday evening.
According to the Washington Post investigation, Trump has not contributed to his foundation since 2008, yet solicited donations he then presented to others as his own — in several cases seemingly to advance his own business and personal interests.
On two occasions, the Trump Foundation purchased expensive souvenirs like a six-foot painting of Trump and a signed Tim Tebow helmet, which if kept for himself would violate IRS rules against using charitable funds to benefit private individuals. In other cases, the foundation appeared to file inaccurate records with the IRS.
Finally, a 2013 contribution of $25,000 to Attorney General Pam Bondi's electoral campaign at the same time her office was considering whether to open an investigation into Trump University, has also come under scrutiny, according to NBC. Trump's program has since been the target of a federal fraud lawsuit by former students; the foundation paid a $2,500 fine for not disclosing the transaction and had the $25,000 in question repaid by the Trump Organization.
"We've inquired into it," New York Attorney General Eric Schneiderman told CNN's Jake Tapper on The Lead. "We've had correspondence with them. I didn't make a big deal out of it or hold a press conference. But we have been looking into the Trump Foundation to make sure it's complying with the laws governing charities in New York."
"My interest in this issue really is in my capacity as regulator of non-profits in New York state, and we have been concerned that the Trump Foundation may have engaged in some impropriety from that point of view," Schneiderman added.
Trump's campaign and its surrogates have come out against Schneiderman, a staunch liberal and frequent Trump critic, saying the investigation is a transparent political ploy designed to damage the candidate before the Nov. 8 general elections.
Trump spokesman Jason Miller called the inquiry a "left-wing hit job," CNN reported, while pro-Trump pundit Jeffrey Lord called Schneiderman a "sleaze" on CNN's OutFront. Conservative site Daily Caller pointed out a potential conflict of interest in that Schneiderman is a Clinton adviser.
Adding to the political dimension of the inquiry: Democrats in Congress have already asked the Department of Justice to open a federal investigation, citing the Bondi incident.