Colin Powell reportedly called Donald Trump a "national disgrace" in leaked emails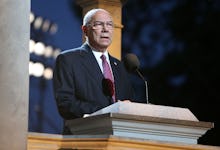 Former Secretary of State Colin Powell doesn't appear to be too fond of Republican presidential nominee Donald Trump: In leaked emails, the retired four-star general called Trump a "national disgrace," BuzzFeed News reported.
In the June 17 email to journalist Emily Miller, a former aide, Powell also called Trump an "international pariah," according to BuzzFeed. The hacked messages were obtained by website DCLeaks.com. 
In an August email, Powell called Trump's insistence that President Barack Obama as not born in the U.S. a "racist" movement, according to the leaked messages. "Yup, the whole birther movement was racist," Powell wrote. "That's what the 99% believe. When Trump couldn't keep that up he said he also wanted to see if the certificate noted that he was a Muslim."
Powell added, "As I have said before, 'What if he was?' Muslims are born as Americans everyday."
Powell's dislike for Trump isn't exactly new. In an email to CNN anchor Fareed Zakaria from December 2015, Powell chastised the station for giving Trump so much attention. "You guys are playing his game, you are his oxygen. He outraged us again today with his comments on Paris no-go for police districts. I will watch and pick the timing, not respond to the latest outrage," he wrote.
And Powell's distaste for the direction of the Republican party isn't just limited to Trump. In another batch of emails, Powell also called the Benghazi hearings against former secretary of state and Democratic presidential nominee Hillary Clinton a "stupid witch hunt."